(ENG) The Chinese New Year is the most magnificent traditional festival among the Chinese people. The festival activities are rich in content, they are lively, festive and they incorporate the essence of traditional Chinese culture. During the festival, Chinese people all over the world will hold various Lunar New Year activities to welcome the arrival of the new year. Today, The China Cultural Center in Copenhagen will introduce you to the three great customs during the festival.
(DAN) Det Kinesiske Nytår er den mest storslåede traditionelle festival blandt det kinesiske folk. Festival-aktiviteterne er rige på indhold, de er livlige, festlige og de inkorporerer essensen af ​​den traditionelle kinesiske kultur. Under festivalen vil kinesere over hele verden afholde forskellige Lunar nytårsaktiviteter for at byde det nye år velkommen. I dag vil Det Kinesiske Kulturcenter i København introducere jer til de tre store folkeskikke under festivalen.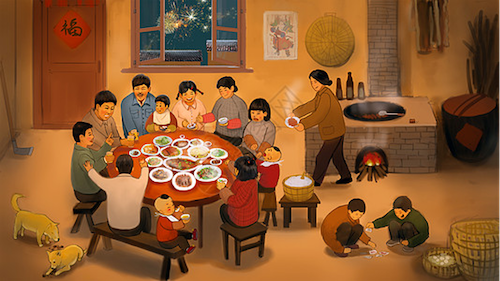 New Year's Couplets
Nytårs Kupletter
(ENG) New Year's couplet, door gods, New Year pictures, the blessing sign, horizontal batches, window grilles etc. are all commonly known as "Tie Nian Hong" (Sticking on New Year's red), which is a traditional Chinese New Year custom.
(DAN) Nytårs kuplet eller versepar, dørguder, nytårsbilleder, velsignelsestegnet, vandrette batch, vinduesgitter mv. er alt sammen almindeligt kendt som "Tie Nian Hong" (Putte nytårsrød på), som er en traditionel kinesisk nytårsskik.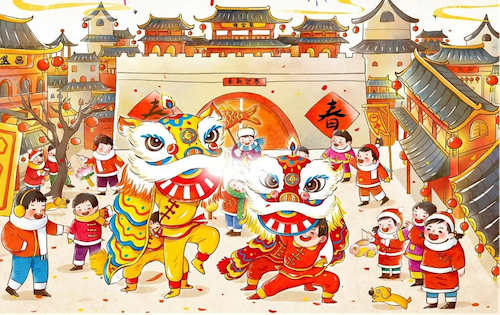 Reunion Dinner
Genforeningsmiddag
(ENG) The reunion dinner is one of the traditional Chinese New Year's customs, which is especially referring to family dinner on New Year's Eve. It is not only colorful, but also very meaningful. With the goal of auspiciousness, the reunion dinner usually includes fish (symbolizing surplus in life year after year), yuba tofu (symbolizing abundance in life), lotus root (symbolizing cleverness in life), lettuce (symbolizing earning money in life), raw garlic (symbolizing calculation in life) etc. The Chinese reunion dinner is a family reunion dinner, and it is also the richest and most important dinner at the end of the year.
(DAN) Genforenings middagen er en af ​​de traditionelle kinesiske nytårsskikke, som især refererer til familiesammenkomstmiddag på nytårsaften. Den er ikke kun farverig, men også meget meningsfuld. For at modtage lykke inkluderer nytårsmiddagen normalvis fisk (symboliserer overskud i livet år efter år), yuba tofu (symboliserer overflod i livet), lotusrod (symboliserer kløgt i livet), salat (symboliserer at tjene penge i livet), rå hvidløg (symboliserer beregning i livet) osv. Den kinesiske genforenings middag er en familiesammenkomstmiddag, og det er også den rigeste og vigtigste middag i slutningen af ​​året.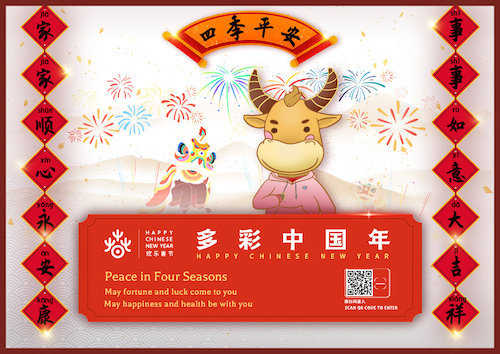 Staying Up Late
Holde Sig Oppe Hele Natten
(ENG) On the eve of the Lunar New Year, you have to stay up late, and every room must be brightly lit all night to welcome the arrival of the new year. The whole family are gathered together, eating New Year reunion dinner, watching the Chinese New Year's Gala Show on television and keeps an all-night vigil. This symbolizes driving away all the evil plagues and looking forward to the good luck of the new year.
(DAN) På nytårsaften holder man sig oppe hele natten, og hvert værelse skal være stærkt oplyst hele natten for at byde det nye år velkommen. Hele familien er samlet, spiser genforeningsmiddagen, ser den Kinesiske Nytårs Galla i fjernsynet, og er vågen hele natten. Dette symboliserer at holde alle onde plager væk samtidig med at se frem til held og lykke i det nye år.
(ENG) The Chinese New Year has a very long history, which in its heritage and development has formed rich and diverse customs. In addition to the three traditional folk customs mentioned above, there are also dragon and lion dances, firecrackers and fireworks, temple masses and lanterns during the festival. Traditional festival rituals along with custom-related activities are an important part of the Chinese New Year, which has flamboyant Chinese cultural connotations.
(DAN) Det Kinesiske Nytår har en meget lang historie, som i sin arv og udvikling har dannet rige og forskelligartede skikke. Udover de tre traditionelle folkeskikke, der er nævnt ovenfor, er der også drage- og løvedanse, krudt og fyrværkeri, tempelmesser og lanterner i løbet af festivalen. Traditionelle festivalritualer sammen med skikkerelaterede aktiviteter er en vigtig del af det Kinesiske Nytår, som har flamboyante kinesiske kulturelle konnotationer.