Spring Festival is the Chinese Lunar New Year, commonly known as Chinese New Year or Spring Festival. The history of the Chinese New Year can be traced back thousands of years, evolved from the annual worship ceremony in ancient times during which people honored the deities and ancestors, and prayed for good harvests in the coming new year. Today, the China Cultural Center in Copenhagen will introduce you the Chinese New Year – the origin and the traditional Chinese folk customs during the New Year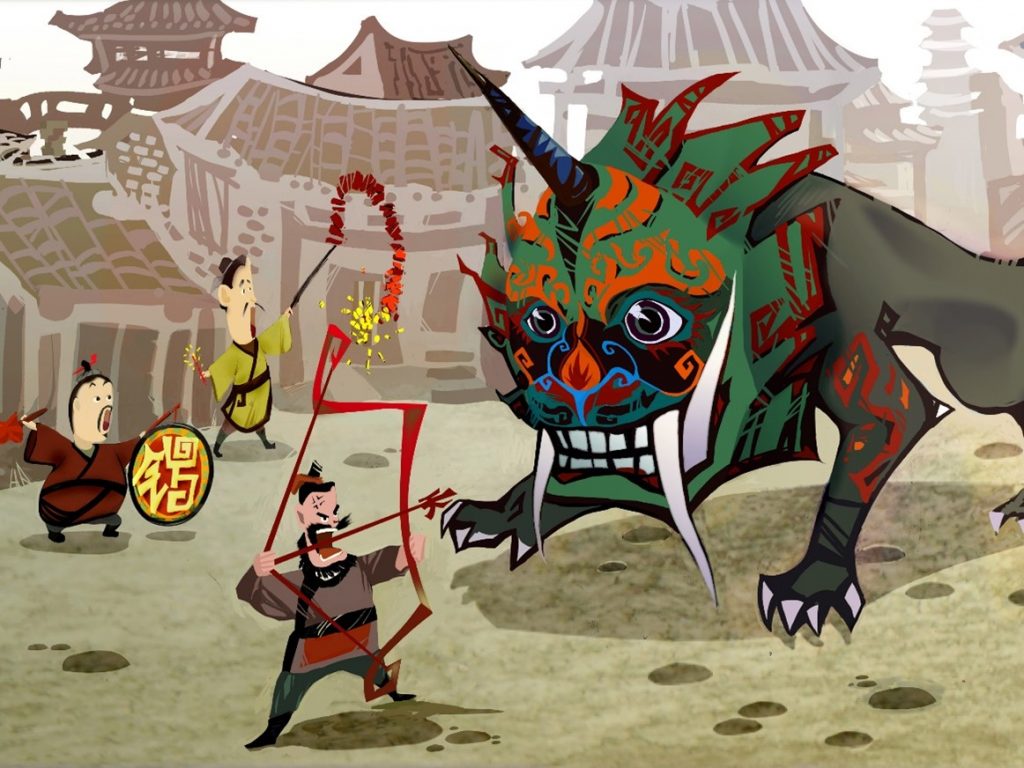 According to one of the most famous legends, it is widely believed that the word Nian (in Chinese means 'year'), was first the name of a ferocious monster beast that started to attack human beings at the night before the beginning of a new year. The Nian beast (also called 'Xi') appeared once a year and only on New Year's Eve. From then on, this day is called Guo Nian (Guo means "pass over" and Nian means "year"), and the New Year's Eve is called Chu Xi (meaning to eliminate the Nian beast). The Nian beast was extremely cruel. It came out and attack livestock and villagers only in the middle of the night before the New Year. In order to avoid this, on the day of every New Year's Eve the whole family from all villages would flee and stay together. Although the Nian beast was fierce, it was actually afraid of the color red, glaring lights and loud noise. Therefore, when the New Year was about to come, each family would put up red paper on the doors and set off firecrackers outside to scare away the Nian beast.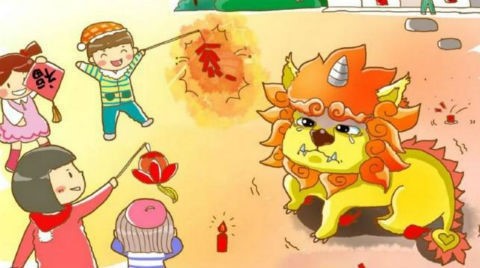 As a Chinese saying goes, "A year ends amidst the crepitation of firecrackers", which refers to setting off firecrackers on the night of the New Year's Eve and the morning of the first day in the first month of the lunar calendar to dispel the haze of the past year and welcome the new year. Unlike the fireworks used on Danish New Year, Chinese firecrackers are usually hung up or set off on the ground, which is a kind of entertainment for the New Year, hoping that the new year will be prosperous.
Visiting friends and relatives during the Chinese New Year is one of the traditional Chinese New Year customs and a special way for people to express good wishes to each other. In China, the celebrations during the Spring Festival are extremely rich and diverse, including dragon and lion dances, temple fairs, fireworks, watch lanterns and so on.
The Spring Festival is one of the most important traditional festivals in China. Therefore, in the coming weeks, the China Cultural Center in Copenhagen will introduce you a series of activity that you can experience and participate in during the Chinese New Year 2021, which is the year of the Ox. Last but not least, you can feel the charm of the traditional Chinese culture. Let us celebrate this Happy Chinese New Year together. Stay Tuned!
---
DANISH VERSION:
Forårsfestival er det kinesiske månenytår, almindeligvis kendt som kinesisk nytår eller forårsfestival. Historien om det kinesiske nytår kan spores tusinder af år tilbage, som udviklede sig fra den årlige tilbedelsesceremoni i oldtiden, hvor folk ærede guderne og forfædrene og bad om gode høster i det kommende nye år. I dag vil Det Kinesiske Kulturcenter i København introducere dig til det kinesiske nytår – oprindelsen samt de traditionelle kinesiske folkeskikker under det kinesiske nytår.
Ifølge en af ​​de mest berømte legender antages det, at ordet Nian (på kinesisk betyder 'år') først var navnet på en djævelsk dæmon, der begyndte at angribe mennesker natten før det nye års begyndelsen. Dæmonen Nian (også kaldet 'Xi') kom frem hvert år og kun på nytårsaften. Fra den dag af kaldes denne dag Guo Nian (Guo betyder "at gå forbi" og Nian betyder "år"), og nytårsaften kaldes for Chu Xi (hvilket betyder at eliminere dæmonen Nian). Dæmonen Nian var ekstrem ond. Den kom ud, kun midt om natten til nytåret, og angreb husdyr og landsbyboere. For at undgå dette, flygtede hele familien fra alle landsbyer og blev sammen til hver nytårsaften. Selvom dæmonen Nian var vild, var den faktisk bange for farven rød, blændende lys og støj. Derfor, når nytåret var ved at komme, satte hver familie røde papirstykker op på dørene og satte ild til kanonslagene for at skræmme Nian væk.
Som et kinesisk ordsprog siger, "Et år slutter midt i lyden af fyrværkeri", som henviser til at fyre fyrværkeri af natten til nytårsaften og morgenen den første dag i den første måned af månekalenderen for at fjerne det dårlige, som er sket, i det forløbne år og byde det nye år velkommen. I modsætning til fyrværkeriet, der bruges på det danske nytår, hænges kinesiske kanonslag sædvanligvis op eller sættes på jorden, hvilket er en slags underholdning til nytåret i håb om, at det nye år vil være blomstrende.
At besøge venner og familie i det kinesiske nytår er en af ​​de traditionelle kinesiske nytårsskikke og en særlig måde for folk at udtrykke lykønskninger til hinanden på. I Kina er festlighederne under forårsfestivalen ekstremt rige og forskelligartet, herunder drage- og løve dans, tempelmesser, fyrværkeri, se lanterner og så videre.
Forårsfestival er en af ​​de vigtigste traditionelle festivaler i Kina. Derfor vil Det Kinesiske Kulturcenter i København i de kommende uger præsentere en række aktiviteter som du kan opleve og deltage i under det kinesiske nytår 2021, som er oksens år. Sidst, men ikke mindst kan du føle charmen ved den traditionelle kinesiske kultur. Lad os fejre dette glædelige kinesiske nytår sammen. Bliv hængende!