On October 23rd, the principal of Stone Axe High School in Denmark, Mr. Knud E. Schack Korsbjerg, hosted Director Zheng and his team from the China Cultural Center in Copenhagen. They delivered an insightful lecture on Beijing's culture to prepare the students for their upcoming cultural exploration journey to Beijing, Shanghai, and beyond.
Director Zheng guided the students through the newly established Digital Cultural Exhibition Hall, showcasing the "Beijing: A Tapestry of Time and Space, From History to the Future" photography exhibition. With each photograph, Director Zheng shared the background stories, providing the students with a deeper understanding of Beijing's history, contemporary life, and future developments.
The students also watched a Beijing cultural tourism video and engaged in discussions. They expressed their anticipation for their China trip and their interest in learning about the lives and studies of Chinese students. Additionally, they learned the basics of using WeChat, a valuable tool for communication and daily life in China.
This activity equipped the students with a profound appreciation of Chinese history and culture, getting them ready for their upcoming journey.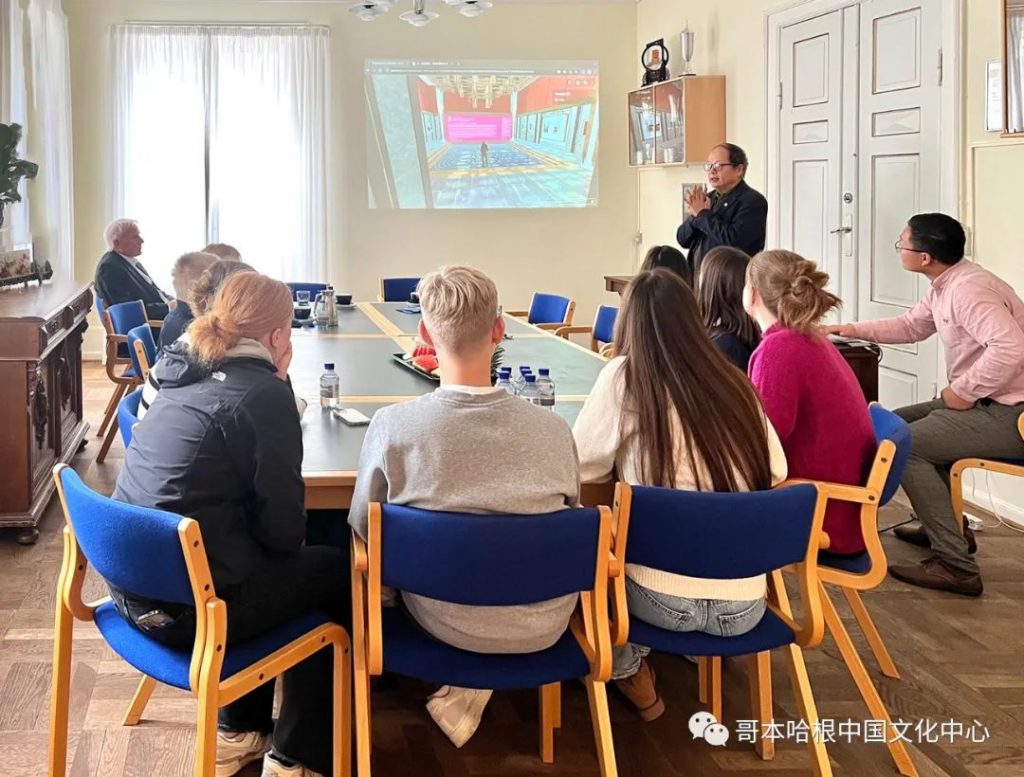 ---
Danish
Den 23. oktober bød rektor Knud E. Schack Korsbjerg fra Stenhus Kostskole i Danmark velkommen til direktør Zheng og hans hold fra Kina Kulturcenter i København. De holdt et indsigtsfuldt foredrag om kinesisk kultur for at forberede eleverne til deres kommende kulturrejse til Beijing, Shanghai og andre steder.
Direktør Zheng førte eleverne gennem det nyetablerede Digitale Kulturområde, hvor de kunne opleve udstillingen "Beijing: En Tæppe af Tid og Rum, Fra Historie til Fremtiden," med fotografier nøje udvalgt af centret. Med hvert fotografi delte direktør Zheng baggrundshistorierne og gav eleverne en dybere forståelse af Beijings historie, nutidige liv og fremtidige udvikling.
Eleverne så også en kulturel turismevideo om Beijing og deltog i diskussioner. De udtrykte deres forventning til deres Kina-tur og deres interesse for at lære om livet og studierne for kinesiske elever.
Derudover lærte de det grundlæggende i at bruge WeChat, et værdifuldt redskab til kommunikation og dagligliv i Kina.Denne aktivitet udrustede eleverne med en dyb værdsættelse af kinesisk historie og kultur, og gjorde dem klar til deres kommende rejse.