On the 2nd of March 2023, a total of 18 students and teachers from the Eisbjerghus International School in Denmark embarked on Air China flight CA878 from Copenhagen, en route to Chengdu via Beijing, to commence a 12-day study tour. This marks the first Danish student study tour to China since the COVID-19 outbreak. Accompanied by a giant panda, Zheng Wen, the Director of the China Cultural Center in Copenhagen, bid farewell to the group at the airport. He introduced them briefly to Chengdu, the hometown of the giant panda, and wished them an enjoyable time during their stay in Chengdu.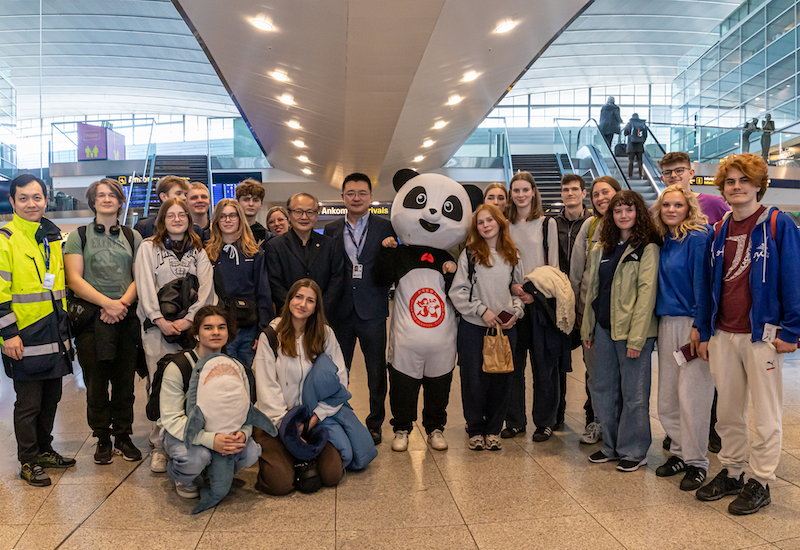 The Eisbjerghus International School in Funen has established long-term cooperation with Chengdu Shishi High School. During their visit to Chengdu, Danish teachers and students will reside with local families and partake in visits to various cultural and tourist attractions, including the Chengdu Research Base of Giant Panda Breeding, in order to gain an in-depth experience of Chinese culture.
---
//DANISH
Den 2. marts 2023 begav i alt 18 studerende og lærere fra Eisbjerghus Internationale Efterskole i Danmark sig afsted på Air China fly CA878 fra København med kurs mod Chengdu via Beijing for at påbegynde en 12-dages studietur. Dette markerer den første danske studietur til Kina siden COVID-19 udbruddet. Akkompagneret af en kæmpe panda, Wen Zheng, direktøren for Kina Kulturcenter i København, tog afsked med gruppen i lufthavnen. Han tog imod lærere og elever og gav dem en kort introduktion til byen Chengdu, som er kendt som kæmpepandens hjemby, samtidig med at han ønskede dem en god rejse til Chengdu. Eisbjerghus Internationale Efterskole, beliggende i Fyn, har etableret et langvarigt samarbejde med Chengdu Shishi Gymnasium. Under deres besøg i Chengdu vil de danske lærere og elever bo hos lokale familier og besøge forskellige kulturelle og turistattraktioner, herunder Chengdu Research Base of Giant Panda Breeding, for at opnå en dybdegående oplevelse af kinesisk kultur.