On the occasion of this year's International Children's Day, the exhibition of Children's Art was held at the building of the China Cultural Center in Copenhagen and it was jointly held by the China Cultural Center in Copenhagen and Denmark H.C. Andersen Culture & Art Committee.
The theme of this exhibition is "Children Paint with Love, Together We Fight the COVID-19". The pandemic that has lasted for more than a year has had a huge impact on the people's lives and health in all countries, and it has also affected the schools and extracurricular activities, which means that online teaching and learning have been used by teachers and students on an unprecedented scale worldwide. Facing a sudden pandemic, children from all over the world have shown courage and self-confidence, taking the pandemic as a life lesson by exploring and perceiving, and actively cooperate with parents and schools to prevent the spread of the coronavirus, so as to achieve both prevention of virus and learning. They are using their paintbrushes to express their helping hand for all walks of life in the fight against the pandemic and use the love reflected in their works to express their blessings to the world and yearning for a better tomorrow.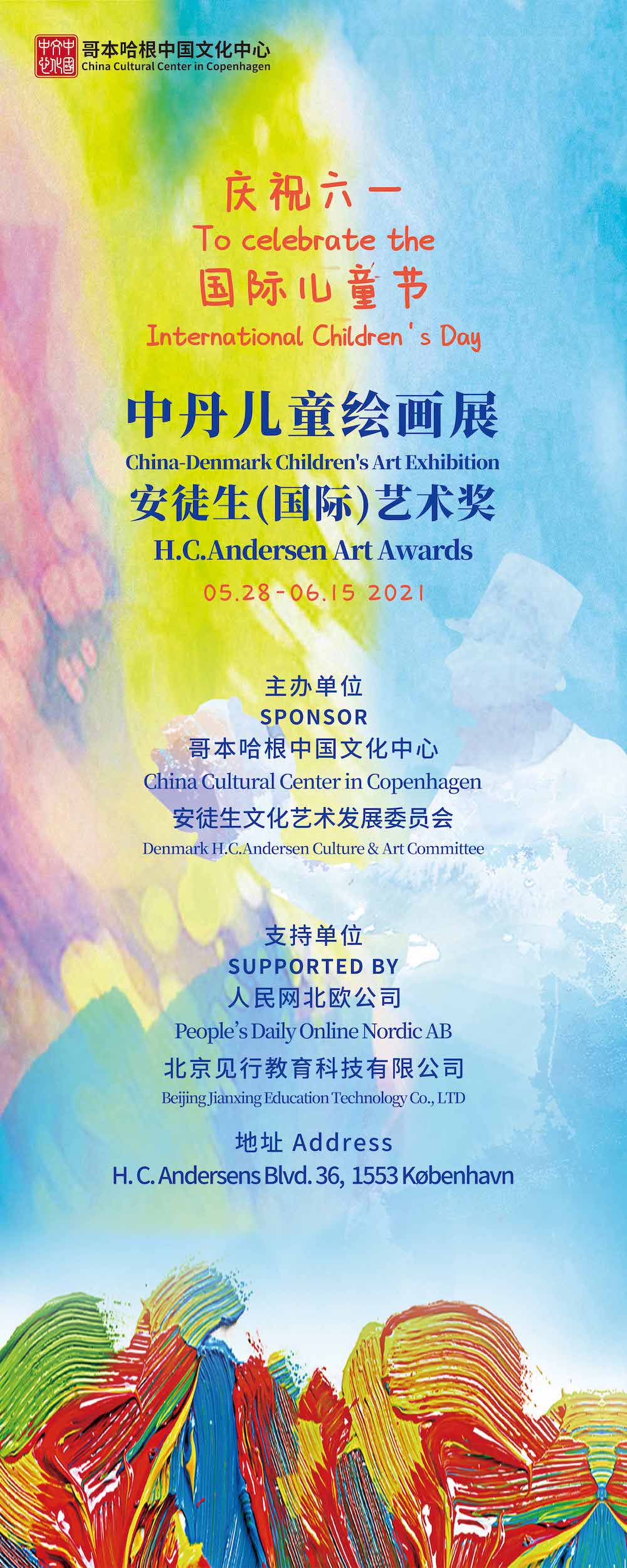 Some outstanding works from "H.C. Andersen Art Award" are also on display in this exhibition. H.C. Andersen Art Award is co-sponsored by Denmark H.C. Andersen Culture & Art Committeeand H.C. Andersen Museum. The purpose is to commemorate Andersen's achievements in culture and art and hope that children will use artistic creation to show their dreaming of fairy tales and aspirations for the world. Many Chinese students from primary school have enthusiastically signed up for this event.
The Danish Andersen's fairy tales are well-known in China, and they are really loved and enjoyed by children. Andersen's fairy tales tell stories full of love and childlike innocence, showing love, fearlessness and courage. This kind of mentality is exactly what the people of all countries in the world need to fight against the pandemic.
Zhang Li, the director of the China Cultural Center in Copenhagen, delivered a speech at the opening ceremony of this exhibition. He said that the Chinese and Danish children are giving a helping hand in the fight of global war against COVID-19 through their work of art. The children express their sincere desire for a better future together. Humanity shares a common destiny and only through cooperation that we can fight against the pandemic. The earth is the home of all mankind, and all countries should work together to develop and build a better world.
Finn Andersen, the Chairman of the H.C. Andersen Culture & Art Committee and former secretary general of the Danish Cultural Institute, said in his speech at the opening ceremony that cultural exchange is an important link between the people of Denmark and China, and children are the hope and future of the world. It is hoped that the young people of Denmark and China can meet of minds, build the confidence to overcome the pandemic, go back to normal life and study as soon as possible, and jointly contribute to the friendship between Denmark and China and a better future.
The successful holding of the exhibition was congratulated and praised by the chairman of H.C. Andersen Society Claus Tilling, the famous musician Morten Langebæk, the famous writer Stig Dalager and other famous people who also attended the opening ceremony. There was agreement in similar cultural activities are needed during the pandemic to soothe people and enhance mutual understanding and communication among peoples of all countries. The activities offered by the China Cultural Center are of high quality. The Danish people find them really interesting, which is very important to the sound development of Sino-Danish relations and the friendship between the peoples of the two countries.
The China Cultural Center will successively invite and arrange for students from primary schools in Denmark to visit the exhibition by time reservation.
In the next few days, some of the paintings will be displayed on our social media, so stay tuned!
---
//DANISH
I anledning af dette års internationale børnedag blev der afholdt udstilling af børns kunst på Det Kinesiske Kulturcenter i København i fællesskab med H.C. Andersen Culture & Art Committee.
Temaet for denne udstilling er "Børn Maler med Kærlighed, Sammen Bekæmper Vi Pandemien". Den pandemi, der har varet i mere end et år, har haft en enorm indflydelse på folks liv og sundhed i alle lande, og det har også påvirket skolerne og aktiviteterne uden for skolen, hvilket betyder, at online undervisning og læring er taget i brug af både lærere og studerende i en hidtil uset skala over hele verden. Over for en sådan pandemi har børn fra hele verden vist mod og selvtillid, idet de tager pandemien som en livsundervisning ved at udforske og opfatte og aktivt samarbejde med forældre og skoler for at forhindre spredning af coronavirus for både at opnå forebyggelse af virus og læring. De bruger deres pensler til at udtrykke deres hjælpende hånd til alle samfundslag, som kæmper mod pandemien og bruger den kærlighed, der afspejles i deres værker til at udtrykke deres velsignelser til verdenen og længsel efter en bedre fremtid.
En række fremragende værker fra "H.C. Andersen Art Award" er også blevet udstillet i denne udstilling. H.C. Andersen Art Award er sponsoreret af Danmark H.C. Andersen Culture & Art Committee og H.C. Andersen Museum. Formålet er at minde Andersens præstationer inden for kultur og kunst og håbe, at børn bruger kunstnerisk skabelse til at vise deres drømme om eventyr og ambitioner for verden. Mange kinesiske elever fra 1.-6. klasse tilmeldte sig entusiastisk til denne aktivitet.
H.C. Andersens eventyr er velkendte i Kina, og børnene elsker og nyder virkelig at læse dem. Andersens eventyr fortæller historier fulde af kærlighed og barnlig uskyld og viser kærlighed, frygtløshed og mod. Denne form for mentalitet er lige hvad befolkningen i alle verdens lande har brug for, for at bekæmpe pandemien.
Zhang Li, direktøren for Det Kinesiske Kulturcenter i København, holdt en tale ved åbningsceremonien for denne udstilling. Han udtrykker, at de kinesiske og danske børn giver en hjælpende hånd i kampen om global krig mod COVID-19 gennem deres kunstværk. Børnene udtrykker deres oprigtige ønske om en bedre fremtid sammen. Menneskeheden deler en fælles skæbne og kun gennem samarbejde, at vi kan kæmpe mod pandemien. Jorden er menneskehedens hjem, og alle lande bør arbejde sammen om at udvikle og bygge en bedre verden.
Finn Andersen, formanden for H.C. Andersen Culture & Art Committee og tidligere generalsekretær for Dansk Kulturinstitut, sagde i sin tale til åbningsceremonien, at kulturudveksling er et vigtigt led mellem folket i Danmark og Kina, og verdens børn er håb for fremtiden. Der håbes på, at de unge i Danmark og Kina kan være i overensstemmende synspunkter, opbygge tilliden til at overvinde pandemien, vende tilbage til det normale liv og studie så hurtigt som muligt og sammen bidrage til venskabet mellem Danmark og Kina og en bedre fremtid.
Den vellykkede udstilling blev lykønsket og rost af formanden for H.C. Andersen Society Claus Tilling, den berømte musiker Morten Langebæk, den berømte forfatter Stig Dalager og andre berømte personer, som også deltog i åbningsceremonien. Der var enighed i, at lignende kulturelle aktiviteter er nødvendige under pandemien for at berolige folk og øge den gensidige forståelse og kommunikation mellem folk i alle lande. Aktiviteterne, der tilbydes af Det Kinesiske Kulturcenter, er af høj kvalitet. Det danske folk finder dem virkelig interessante, hvilket er meget vigtigt for den sunde udvikling for de danske-kinesiske relationer og venskabet mellem de to lands folk.
Det Kinesiske Kulturcenter vil efterhånden invitere og arrangere eleverne fra folkeskoler i Danmark til at besøge udstillingen efter tidsbestilling.
I de næste par dage vil en del af malerierne blive vist på vores sociale medier, så hold dig opdateret!