We are about to enter the new year. In about one month, the curtain will rise on the 2022 Beijing Winter Olympics. The year 2021 has been a crucial year with preparatory work on all fronts progressing steadily towards full completion for the Beijing Winter Olympics. The outstanding initial work has been witnessed by all. Athletes and people from all walks of life in many countries and international organizations, including the International Olympic Organizing Committee, have all said that they support and look forward to the Beijing Winter Olympics. Right now, the preparation for the Games has entered the final stretch. Beijing, a city to host both the Summer and Winter Olympics, will present a simple, safe and splendid event for the world.
Today, we will introduce you to a video that tells a short story about the torch relay of the Beijing 2022 Winter Olympics, "The Covenant of Ice and Snow". We see that under the light of the fire, the adventure boy while skiing ignites the prehistoric rock paintings in the Tianshan caves, and starts a light-following journey through time and space. He reunites with a skiing girl in the snow world, in which they together experience the joy of winter sports. Finally, they both made it to the 2022 Beijing Winter Olympics.
As the Olympic fire embraces Beijing again, we hope to use videos and images to ignite everyone's enthusiasm for winter sports.
Beijing hosted the 2008 Summer Olympics. Thus, the city becomes the world's first "Double Olympic City". The Winter Olympics dream has not only merged into the torrent of the Chinese Dream but has also become an important opportunity to show the world the credible, lovely, and respectable image of China. Beijing, as the center, this ice and snow event will become the most appropriate stage to promote the construction of a community with a shared future for mankind.
Let us look forward to a green, inclusive, open and clean Winter Olympics and Paralympics!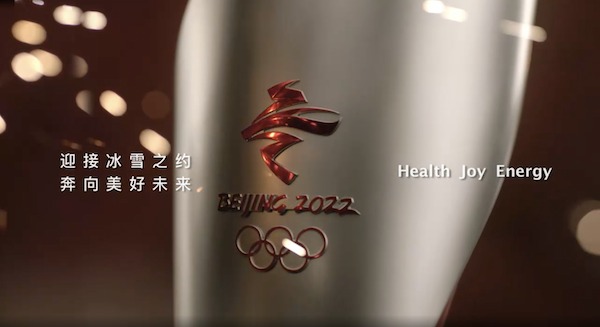 ---
//DANISH
Vi er ved at gå ind i det nye år. Om cirka en måned går åbningsceremonien i gang for vinter-OL 2022 i Beijing. Året 2021 har været et afgørende år med forberedende arbejde på alle fronter, der skrider støt frem mod fuld afslutning for Vinter-OL i Beijing. Vi alle er vidner til det fremragende indledende arbejde. Atleter og folk fra alle samfundslag i mange lande og internationale organisationer, herunder Den Internationale Olympiske komité, har alle udtrykt, at de støtter og ser frem til Vinter-OL i Beijing. Lige nu er forberedelserne til legene gået ind i det sidste stykke. Beijing, en by der er vært for både sommer- og vinter-OL, vil præsentere verden en enkel, sikker og pragtfuld begivenhed.
I dag vil vi gerne introducere dig til en video, der fortæller en kort historie om fakkelstafetten ved Vinter-OL i Beijing 2022, "The Covenant of Ice and Snow". Vi ser, at eventyrdrengen, som står på ski, under ildens lys antænder de forhistoriske klippemalerier i Tianshan-hulerne og starter en lysfølgende rejse gennem tid og rum. Han genforenes med en skiløberpige i sneverdenen, hvor de sammen oplever glæden ved vintersport. Endelig nåede de begge til Vinter-OL i Beijing i 2022.
Da den olympiske ild er ankommet til Beijing igen, håber vi at ved hjælp af billeder og videoer kan tænde for alles entusiasme for vintersport.
Beijing var i 2008 vært for sommer-OL. Dermed bliver byen verdens første "Dobbelt Olympisk By". Vinter-OL-drømmen er ikke kun løbet igennem den kinesiske drøms strøm, men er også blevet en vigtig mulighed for at vise verden det troværdige, dejlige og respektabelt billede af Kina. Med centrum i Beijing, vil denne vinterbegivenhed blive den mest passende scene til at fremme opbygningen af ​​et samfund med en fælles fremtid for menneskeheden.
Lad os se frem til et grønt, inkluderende, åbent og rent vinter-OL og paralympiske lege!