On November 27th, the "Traditional Chinese Medicine Health-Cultural Day" event was successfully held at the China Cultural Center in Copenhagen to promote the traditional culture of Chinese medicine. The members of the Chinese Taiji, Qigong & Sports Studio in Denmark were invited to attend the event. The program of the day consisted of a mixture of 'hygge' and knowledge.
As an essential part of China's traditional culture, Traditional Chinese Medicine (TCM) embodies the Chinese nation's core values ​​and way of thinking. The Overseas China Cultural Center is an important platform for actively promoting this treasure of wisdom and science of Chinese ancestors to people worldwide.
The first activity on the program was to taste the Chinese tea. The tea artist, Jingya Chen, conducted the Chinese tea ceremony and explained the tea's functions. Chinese teas have been consumed by more and more people all over the world. While some people drink the tea for enjoyment, others drink it for one or more of the healthy benefits of drinking it every day.
Dr. Ming Chen, clinical microbiologist and associate professor at the University of Southern Denmark, is well versed in both Chinese and Western medicine. Based on his many years of research findings and knowledge in Chinese and Western medicine, he gave a short lecture on the fundamental theories of Chinese medicine and traditional Chinese culture. For thousands of years, Chinese medicine has made an outstanding contribution to the reproduction and prosperity of the Chinese nation. Today, TCM complements modern medicine. With its unique advantages, they jointly undertake to ensure the Chinese people's medical and health care.
Dr. Anhua Deng has been practicing medicine in Denmark for many years, and he is active and enthusiastic in promoting TCM. In his lecture, he introduced the basic principles and concepts of Chinese acupuncture and massage. He came up with good suggestions for Chinese medicine diagnosis, treatment of common diseases, and daily self-care. The simple tricks to alleviate common diseases have attracted many people in the room to imitate and learn.
Tai Chi, which is one of the major branches of traditional Chinese martial arts, has a rich background and a long history. It can improve your health and fight off diseases. Tai Chi has attracted an increasing number of fans worldwide.
Dongze Han, which comes from Shenyang (a city located in northeastern China's Liaoning Province), has practiced Tai Chi and other martial arts for many years. He demonstrated the Yang style Tai Chi which consists of slow, expansive, and soft movements. His fantastic performance was highly praised by the guests.
During the day, the promotional videos showcasing the upcoming Beijing Winter Olympics and Paralympics were also played. The videos introduced the fantastic facilities, construction, and other preparations for the Winter Olympics. Moreover, three lucky winners were drawn from the lottery and received Winter Olympic souvenirs.
The current situation of the pandemic once again looms over European countries and causes Denmark to re-implement Covid-19 rules and guidelines. Under these rules and guidelines, the China Cultural Center has successfully managed to organize the "Traditional Chinese Medicine Health-Culture Day" event to promote and introduce Chinese medicine, health care, and healthy living habits to the local people.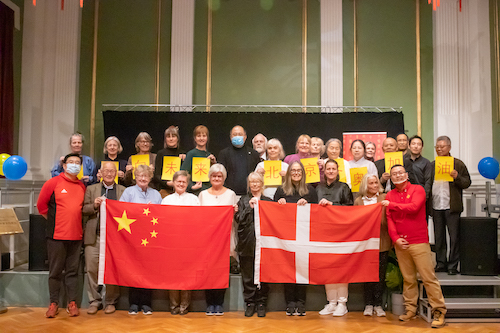 ---
//DANISH
Den 27. november blev begivenheden "Traditionel Kinesisk Medicin Sundheds-Kultur Day" afholdt på Det Kinesiske Kulturcenter i København for at fremme den traditionelle kultur inden for kinesisk medicin. Medlemmerne af Chinese Taiji, Qigong & Sports Studio in Denmark var inviteret til at deltage i arrangementet, og dagens program stod på en blanding af hygge og viden.
Som en væsentlig del af Kinas traditionelle kultur, inkarnerer Traditionel Kinesisk Medicin (TCM) den kinesiske nations kerneværdier og måde at tænke på. Det oversøiske kinesiske kulturcenter er en vigtig platform for aktivt at promovere denne skat af visdom og viden leveret fra de kinesiske forfædre til mennesker over hele verden.
Den første aktivitet på programmet var at smage den kinesiske te. Te-kunstneren, Jingya Chen, gennemførte den kinesisk te-ceremoni og forklarede teens funktioner. Kinesisk te er blevet indtaget af flere og flere mennesker over hele verden. Nogle mennesker drikker teen for at nyde den, mens andre drikker den for en eller flere af de sunde fordele, der kommer ved at drikke den hver dag.
Dr. Ming Chen, klinisk mikrobiolog og professor ved Syddansk Universitet, er velbevandret i både den kinesisk og vestlig medicin. Baseret på sine mange års forskningsresultater og viden inden for ​​kinesisk og vestlig medicin holdt han et kort foredrag om de grundlæggende teorier om kinesisk medicin og traditionel kinesisk kultur. I tusinder af år har kinesisk medicin ydet et stort bidrag til den kinesiske nations reproduktion og velstand. I dag supplerer TCM moderne medicin og med dens unikke fordele og har de i fællesskab opgaven med at sikre det kinesiske folks læge- og sundhedspleje.
Dr. Anhua Deng har praktiseret medicin i Danmark i mange år, og han er aktiv og entusiastisk i at fremme TCM. I sit foredrag introducerede han de grundlæggende principper og begreber for kinesisk akupunktur og massage, og kom med gode forslag til kinesisk medicin diagnosticering, behandling af almindelige sygdomme og daglig egenomsorg. De simple tricks til at lindre almindelige sygdomme har tiltrukket mange på stedet til at efterligne og lære dem.
Tai Chi, som er en af ​​de vigtigste grene i traditionel kinesisk kampsport, har en rig baggrund og en lang historie. Det kan forbedre ens helbred og bekæmpe sygdomme. Tai Chi har tiltrukket et stigende antal fans verden over.
Dongze Han, som kommer fra Shenyang (en by der ligger i provinsen Liaoning i det nordøstlige Kina), har dyrket Tai Chi og andre kampsport i mange år. Han demonstrerede Tai Chi i Yang-stil, som består af langsomme, ekspansive og bløde bevægelser. Hans fantastiske præstation fik stor ros af gæsterne.
I løbet af dagen blev der også afspillet reklamevideoer, der viser de kommende vinter-OL og Paralympiske Lege i Beijing. Videoerne introducerer de fantastiske faciliteter og byggerier og andre forberedelser til vinter-OL. Desuden blev tre heldige vindere trukket i dagens lotteri om vinter-OL-souvenirs.
Den nuværende pandemi truer endnu en gang de europæiske lande, hvilket får Danmark til at genimplementere Covid-19 regler og retningslinjer. I henhold til disse regler og retningslinjer har Det Kinesiske Kulturcenter med succes formået at organisere begivenheden "Traditionel Kinesisk Medicin Sundheds-Kultur Dag" for at fremme og introducere kinesisk medicin, sundhedspleje og sunde livsstilsvaner til lokalbefolkningen.