How to carve an egg
Carving an egg usually takes four steps, namely sketch (prepare a draft), scratch the basic lines, carve the design, and clean and present the finished work.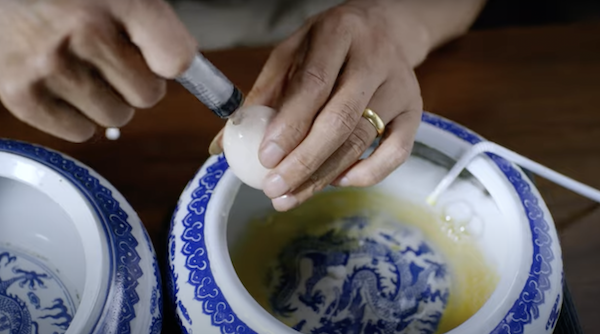 1. Sketch (prepare a draft)
(1) Sketch the design directly: Use a pencil to sketch the design to be carved in the eggshell. Most sceneries, animals, and plants can be directly sketched on the eggshell, with the basic shapes and color schemes nailed down.
(2) Transfer the design with carbon papers: As for some delicate designs, you can first print them at an appropriate size. Before transferring the designs to the eggshell, you can attach the transparent tape to those printed images and press the tape with something with a smooth surface. In doing so, the originals will not be easily broken or contaminated during the transfer to be used repeatedly. The main purpose is to identify the locations of some key parts, such as the eyes, ears, nose, etc., of a figure. Therefore, details can be skipped as long as the face and hair have been well-positioned because too many lines would cause visual disruptions and keep carvers from seeing the big picture.
(3) Transfer the design with nail polish removers: Soak the printed design in clear water for five seconds and then take it out. Stick the image to the eggshell surface and press it hard with a towel. Then, use several cotton swabs which have been dipped in the nail polish remover to wet the other side of the paper, and press the paper again with something hard with a smooth surface. Ten seconds later, remove the paper carefully, and the design will be transferred to the eggshell surface.
(4) Draw the design with some tools: To create some carvings consisting of geometric shapes, plaids and round shapes for example, you can use some tools such as a compass to draw the design.
2. Scratch the basic lines
Scratch the basic lines with a burin. If you don't have a burin, you can use a newly-broken hacksaw blade as the alternative. During this stage, you have to scratch the lines lightly to avoid any troubles in the following stages.
3. Carve the design
When carving the design, carvers should pay due attention to the strength they've used, the angle of their blade, and the change of eggshell colors, so as to create the best piece of art. This is the most cumbersome and difficult step during the whole creation process and it requires enduring efforts.
As soon as carvers finish the carving, they need to clean the pencil marks and dusts on the surface of the eggshell. Pencil marks can be removed with a plastic eraser and dusts can be wiped off with a soft and wet cotton cloth.
The finished works have to be kept in light-proof boxes, as prolonged sunlight exposure will cause the colors to fade and oxidize at a faster rate.
About the Artists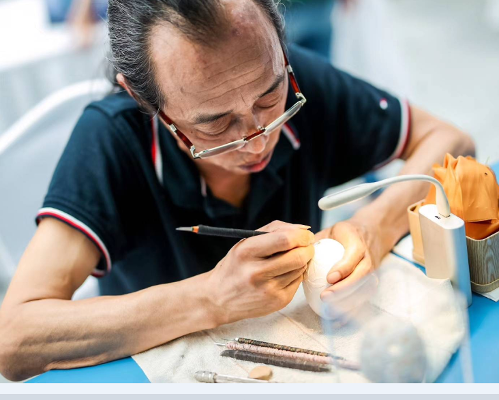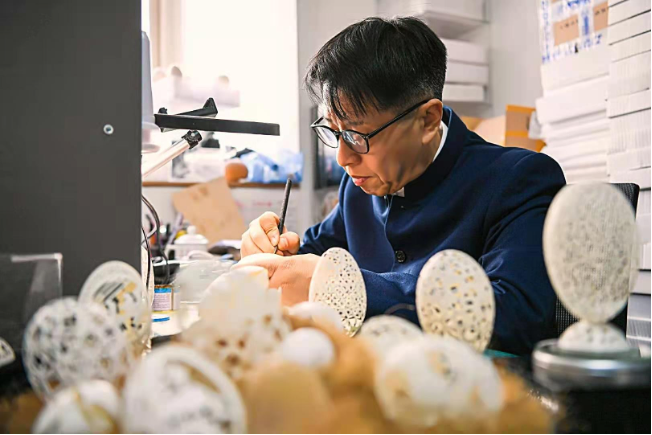 ---
//DANISH
Hvordan udskærer man et æg?
Der er normalt fire trin at følge til udskæring af et æg, nemlig at skitsere (forbered et udkast), skrabe de grundlæggende linjer, udskære designet og rengør og præsentere det færdige arbejde.
1. Skitser (forbered et udkast)
(1) Skitsér designet direkte: Brug en blyant til at skitsere det design, der skal skæres i æggeskallen. De fleste landskaber, dyr og planter kan skitseres direkte på æggeskallen med de grundlæggende former og farveskemaer fastsømmet.
(2) Overfør designet med karbonpapir: Hvad angår nogle sarte designs, kan man først udskrive dem i en passende størrelse. Før man overfører motiverne til æggeskallen, kan man fastgøre den gennemsigtige tape til de trykte billeder og trykke tapen med noget som har en glat overflade. Ved at gøre dette vil originalerne ikke let blive knækket eller forurenet under overførslen, som skal gøres gentagne gange. Hovedformålet er at identificere placeringen af ​​nogle nøgledele, såsom øjne, ører, næse osv. af en figur. Derfor kan detaljer springes over, så længe ansigtet og håret har været velplaceret, fordi for mange linjer vil forårsage synsforstyrrelser og forhindre én at kunne se det store billede.
(3) Overfør designet med neglelakfjerner: Læg det trykte motiv i noget klart vand i fem sekunder, og tag det ud derefter. Sæt billedet fast på æggeskallens overflade og tryk det hårdt med et håndklæde. Brug derefter nogle vatpinde, som er dyppet i neglelakfjerneren til at fugte den anden side af papiret, og tryk papiret igen med noget hårdt som har en glat overflade. Ti sekunder senere skal man fjerne papiret forsigtigt, og designet vil blive overført til æggeskallens overflade.
(4) Tegn designet med nogle værktøjer: For at skabe nogle udskæringer bestående af for eksempel geometriske former, skotskternet mønster og runde former, kan man bruge nogle værktøjer såsom et passer til at tegne designet.
2. Skrab de grundlæggende linjer
Skrab de grundlæggende linjer med en gravstik. Hvis du ikke har en gravstik, kan du bruge et nyligt knækket nedstrygerblad som alternativ. I løbet af denne fase skal du skrabe stregerne forsigtig for at undgå problemer i de følgende trin.
3. Udskær designet
Når man udskærer designet, bør man være opmærksom på den styrke, man bruger, vinklen på klingen og ændringen af ​​æggeskallernes farver, for at skabe det bedste kunstværk. Dette er det mest besværlige og vanskelige trin under hele processen, og det kræver en vedvarende indsats. Så snart man er færdige med udskæringen, skal man rense blyantmærkerne og støvet på overfladen af ​​æggeskallen. Blyantmærker kan fjernes med et viskelæder og støv kan tørres af med en blød og våd bomuldsklud.
De færdige værker skal opbevares i lystætte kasser, da langvarig eksponering for sollys vil få farverne til at falme og oxidere hurtigere.
Om Kunstnerne
I øjnene af Jiazhao Yuan, en mandlig kunstner født i 1958, er hvert hønseæg en unik eksistens i denne verden – det har en unik form, farve og tekstur. Ligesom et menneskes ansigt er det fuld af vitalitet. Gennem hans fingre bliver enhver skrøbelig æggeskal til et rummeligt "univers" uden grænser.
Yafei Li, født i 1963, er en mester, der har helliget sig fuldt ud at studere ægudskærings-teknikker gennem årene. Gennem de teknikker som hollow-out udskæring og shallow udskæring har han præsenteret en bred vifte af temaer såsom kinesiske karakterer af forskellige stilarter, dyr, blomster, fugle, fisk og insekter på skallerne af hønseæg, emuæg og struds æg.