Egg carving is the art of cutting intricate designs through the surface of bird eggs with the help of various sculpture methods, techniques, forms, and patterns. As early as in the Spring and Autumn Period (770 to 403 BCE), egg carving techniques have been well recorded in some ancient Chinese books. After centuries of development, these techniques have become increasingly sophisticated. When it comes to today, people have become capable of drilling holes in a large variety of bird eggs such as chicken, ostrich, and emu eggs and scratching delicate patterns into the shells. Finally, the art of egg carving with great aesthetic value gradually takes shape.
This exhibition elaborates on the artistic features, raw materials, tools, and techniques of contemporary egg carvings in Shanghai, highlighting 100 select artworks created by egg carvers in Shanghai. The art of egg carving involves both painting and sculpture. It showcases great artistic beauty through complex sculpture techniques, such as relief, intaglio, and hollowed-out carving. At the hands of talented artists, those pettiest eggs have been turned to "gold" with tremendous artistic value.
How to select the right materials for egg carving
Egg carvings are mainly made out of bird eggs (such as chicken, goose, ostrich eggs). Each carving starts with selecting the perfect egg, and the main criteria should be: a well-proportioned shape, a thick eggshell, an evenly-distributed color, and no weak points on the surface. Take chicken eggs for example. We should pick those medium-sized eggs with a smooth and evenly dark-colored eggshell and no weak points on the surface. Unevenly distributed colors and weak points usually indicate the shell thickness may be uneven so that it may be easily cracked during the carving stage. In that case, the artists can hardly finish the carving.
Tools and Accessories
Tools and accessories used during the egg carving process include a flat knife, round machete knife, triangle knife, syringe, pencil, tweezer, compass, eraser, pyramid, carbon paper, and so on.
How to prepare the eggshell
Before carving, carvers need to get the eggshell prepared first. There are four steps to follow:
1. Poke a hole: Carvers usually grind a steel bar down to a rectangular or hexagonal pyramid to poke a hole in the egg. Before that, the central position should be marked at both ends of the eggshell;
2. Extract the egg contents: If the egg whites and yolk were left inside the eggshell, the egg would soon go off and become stinky. It would also be very inconvenient for the carving. That's why the egg needs to be blown out;
3. Clean the egg and prevent it from turning rotten: Even though the egg whites and yolk have been extracted, some of the contents may still linger inside the eggshell, which will still lead to decay if not removed. Therefore, the eggshell needs to be cleaned from inside to prevent the egg from turning rotten;
4. Dry the egg: Set the egg straight up with the hole at the bottom (to let the remaining water out) and put it in a well-ventilated place with no sunshine for about three days. Then, turn the egg (the one-hole eggshell) upside down with the hole at the top, and continue to dry the egg for three to five days.
About the Artists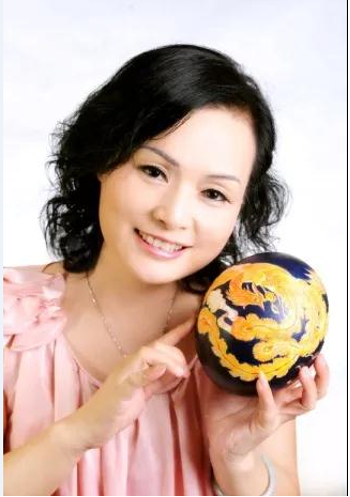 Fang Qingfang, born in 1966, is an expert in ostrich and emu egg carving. She incorporates environmentally friendly paints, oil paints, acrylic paints, and Chinese painting pigments and ink into her creation, making her works more diversified and colorful. Such a unique style of hers has been hailed as "enamel egg carving".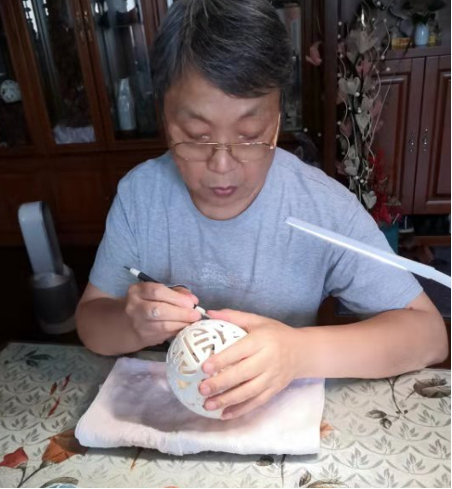 Born in 1955, Huang Qiuyuan has created a lot of incredible egg carvings with techniques such as shallow carving and hollowed-out carving. He has also incorporated painted designs into his creation, making the themes more distinct and images more vivid. His works are hard to overlook and hard to leave behind.
---
//DANISH
Udskæring af æg er en kunstform, hvor der udskæres indviklede designs på overfladen af ​​fugleæg ved hjælp af forskellige skulpturmetoder, teknikker, former og mønstre. Allerede i Forårs- og efterårsperioden (770 til 403 f.v.t.) er teknikker til udskæring af æg blevet godt registreret i nogle gamle kinesiske bøger. Efter århundreders udvikling er disse teknikker blevet mere og mere sofistikerede. I dag er folk blevet i stand til at bore huller i en lang række fugleæg såsom hønse-, strudse- og emuæg og lave sarte mønstre på skallerne. Endelig har denne kunst med stor æstetisk værdi efterhånden taget form.
Denne udstilling præsenterer de kunstneriske træk, råmaterialer, værktøjer og teknikker i moderne udskåret æg i Shanghai og fremhæver 100 udvalgte kunstværker skabt af kunstnere i Shanghai. Det viser stor kunstnerisk skønhed gennem komplekse skulpturteknikker, såsom relief, dybtryk og hollowed-out udskæring. Selv de mindste æg er blevet forvandlet til "guld" med en enorm kunstnerisk værdi i hænderne på de talentfulde kunstnere.
Sådan vælger du de rigtige materialer til udskæring af æg
Udskåret æg er hovedsageligt lavet på fugleæg (såsom hønse-, gåse- og strudsæg). Hver udskæring starter med at vælge det perfekte æg, og hovedkriterierne bør være: en velproportioneret form, en tyk æggeskal, en jævnt fordelt farve og ingen svage punkter på overfladen. Tag for eksempel hønseæg. Vi bør vælge de mellemstore æg med en glat og ensartet mørkfarvet æggeskal og ingen svage punkter på overfladen. Ujævnt fordelte farver og svage punkter indikerer normalt, at skaltykkelsen kan være ujævn, det vil sige at den let kan revne under udskæringen. I så fald kan kunstnerne næppe færdiggøre udskæringen.
Værktøj og Tilbehør
Værktøj og tilbehør, der bruges under udskæring af ægge processen, omfatter en flad kniv, rund machete-kniv, trekantet kniv, sprøjte, blyant, pincet, passer, viskelæder, pyramide, karbonpapir og så videre.
Sådan forbereder du æggeskallen
Før udskæring skal man først forberede æggeskallen. Der er fire trin at følge:
1. Prik et hul
2. Udtræk æggeindholdet
3. Rens ægget og undgå, at det bliver råddent
4. Tør ægget
Om Kunstnerne
Qingfang Fang, født i 1966, er ekspert i udskæring af struds- og emuæg. Hun inkorporerer miljøvenlig maling, oliemaling, akrylmaling og kinesiske maleripigmenter og blæk i sin skabelse, hvilket gør at hendes værker er mere diversificerede og farverige. Sådan en unik stil er blevet hyldet som "emaljeret udskæring af æg".
Qiuyuan Huang er født i 1955 og har skabt en masse utrolige udskåret æg med teknikker som shallow udskæring og hollow-out udskæring. Udover det har han også integreret maleteknikken i sin skabelse, hvilket gør temaerne mere tydelige og billederne mere levende. Hans værker er svære at overse og svære at glemme.