Shanghai has built itself into an international economic, financial, trade and shipping center while a center of technological innovation has taken its initial form. The China International Import Expo held in Shanghai further opens the country to international markets. Scan the QR code below and understand Shanghai in just 5 minutes as the H5 mobile webpage of Shanghai Basic Facts 2021 was released today.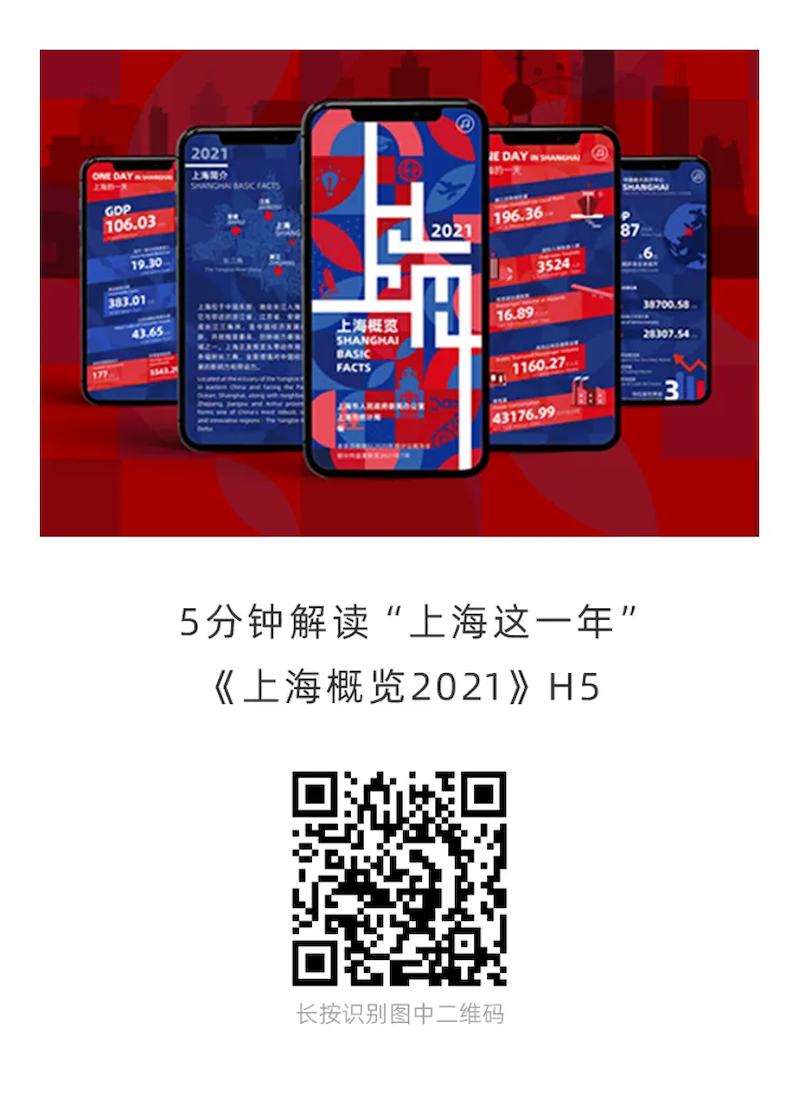 The H5 webpage of Shanghai Basic Facts 2021 summarized the developments of Shanghai over the past year with fashionable design, brilliant colors, animation effects and other data visualization methods.
In 2020, Shanghai's GDP reached 3.87 trillion yuan, ranking the sixth among worldwide cities; The amount of funds raised at the securities markets, spot gold trading volume and crude oil futures market size were all among the top 3 spots in the world; Shanghai had 85 national R&D institutions, more than 500 makerspaces and 149 museums; Over 30,000 public cultural activities were organized; The Health Code application was used more than 2.1 billion times…
The H5 mobile webpage published by the Information Office of Shanghai Municipality was based on Shanghai Basic Facts 2021. The data were collected from the 2020 Shanghai Statistical Communique published by the Shanghai Bureau of Statistics and some major events in 2021.
The bilingual H5 mobile webpage was focused on Shanghai's construction of an international economic, financial, trade, shipping and technological innovation center, a humanistic and eco-friendly city and a global cultural metropolis, and the integrated development in the Yangtze River Delta region. Other major contents included economic data in one day, China International Import Expo, five "New Cities," the development of riverbank along the Huangpu River and the Suzhou Creek, and the construction of Pudong New Area into a pioneer for socialist modernization. The H5 page was released on WeChat, Weibo, Douyin, Kuaishou and other social media platforms.
---
//DANISH
Forstå Shanghai på 5 minutter. Shanghai Grundlæggende Facts 2021 Udgivet på H5-Webside
Shanghai har bygget sig ind i et internationalt økonomisk, finansielt, handels- og forsendelsescenter, mens et centrum for teknologisk innovation begynder at tage sin oprindelige form. China International Import Expo, der blev afholdt i Shanghai, åbner landet op for yderligere internationale markeder. Scan den nedenstående QR-kode og forstå Shanghai på bare 5 minutter.
På H5-mobilwebsiden, hvorpå Shanghai Grundlæggende Facts 2021 er udgivet, opsummeres udviklingen i Shanghai i løbet af det forløbne år med moderigtigt design, strålende farver, animationseffekter og andre data- og visualiseringsmetoder.
I 2020 nåede Shanghais BNP på 3,87 billioner yuan, og blev rangeret som den sjette blandt verdens største byer; Mængden af ​​midler, der blev rejst på kapitalmarkederne, spotguld handelsvolumen og markedsstørrelse for råolie var alle blandt de tre bedste i verden; Shanghai havde 85 nationale Forskning- og Produktudviklingsinstitutioner, etablerede mere end 500 makerspaces og 149 museer; Over 30.000 offentlige kulturelle aktiviteter blev organiseret; Sundhedskode-applikationen blev brugt mere end 2,1 milliarder gange…
H5-mobilwebsiden udgivet af Shanghai Kommunes Informationskontor var baseret på Shanghai Grundlæggende Facts 2021. Dataene blev hentet fra Shanghai Statistisk Årsrapport 2020 udgivet af Shanghai Statistisk Bureau og nogle andre større begivenheder i 2021.
Den tosprogede H5-mobilwebside har fokus på Shanghais konstruktion af et internationalt økonomisk, finansielt-, handels-, forsendelses- og teknologisk innovationscenter, en humanistisk og miljøvenlig by, en global kulturel metropol samt den integrerede udvikling ved Yangtze-floden. Derudover er der også andet indhold som økonomiske data på en dag, China International Import Expo, fem "nye byer", udviklingen af ​​flodbredden langs Huangpu-floden og Suzhou-floden og opførelsen af ​​Pudong New Area til en pioner for socialistisk modernisering. H5-websiden blev frigivet på WeChat, Weibo, Douyin, Kuaishou og andre sociale medier.