(ENG) Shuang Jiang or The Frost's Descent is the 18th of 24 solar terms in the Chinese lunar calendar. It is the last solar term of autumn and marks the transition from autumn to winter. It means that the winter is about to enter. The Frost's Descent usually falls on October 23 or 24, but this year it begins on October 23. The solar term, "Shaung Jiang", reflects the large change in temperature between day and night and at the same time the weather is getting colder. The moisture in the air is also beginning to turn to frost. The autumn harvest is also coming to a close, and the year's worth of hard work finally sees reward.
As Frost's Descent comes, the world is filled with the atmosphere of late autumn. At this time, most of the harvesting work is already completed in northern China and farmers are finally able to rest. Even the most cold-resistant crops can no longer grow, thus it is time to stock up for winter. Although in the south, the harvest is still continuing. As recorded in ancient Chinese books, the Frost's Descent refers to the time of year when frost starts to creep across China, dew becoming icy thanks to plummeting temperatures.
During the days of the Frost's Descent, there are customs such as appreciating chrysanthemum flowers, eating persimmons, go hiking and catch the sights from high up in the mountains, take extra nourishment and so on.
Eating Persimmons
In some parts of China, red persimmons are eaten during Frost's Descent. For the locals, this can not only help people resist the cold but also protect their bones. cIn the countryside, people believe that their lips will crack if they don't eat persimmons during this period.
Appreciate Chrysanthemum Flowers
During this bright autumnal time, Chinese folks also enjoy chrysanthemum flowers, which blossoms in late autumn and is known as the "flower of longevity". When the autumn chrysanthemum is in full bloom, there will be a popular annual Chrysanthemum Fair during this time to show their respect and love for chrysanthemums. Aside from appreciating the chrysanthemums, people also prepare a feast.
Hiking and Catch the Sights from High Up in the Mountains
In ancient times, there was also a custom of hiking and catch the sights from high up in the mountains during the Frost's Descent. It is believed that hiking can significantly increase a person's lung ventilation, vital capacity, blood circulation and cerebral blood flow, so as to achieve the purpose of strengthening the physical prevention and treatment of diseases. Moreover, climbing can also cultivate a person's will and temperament.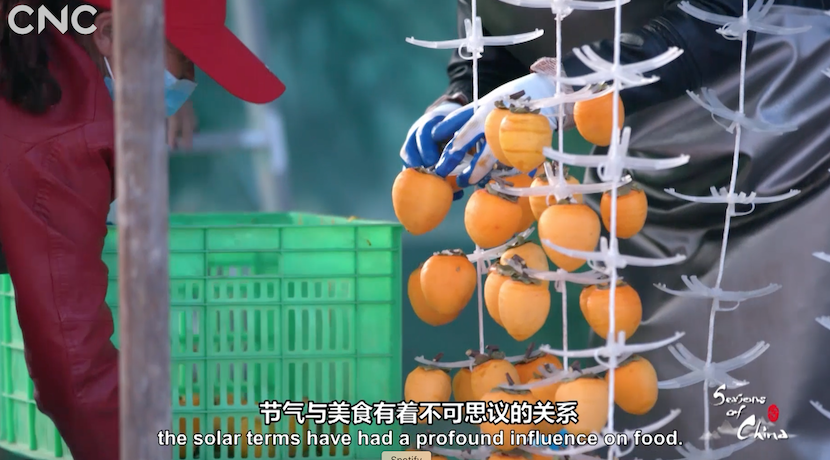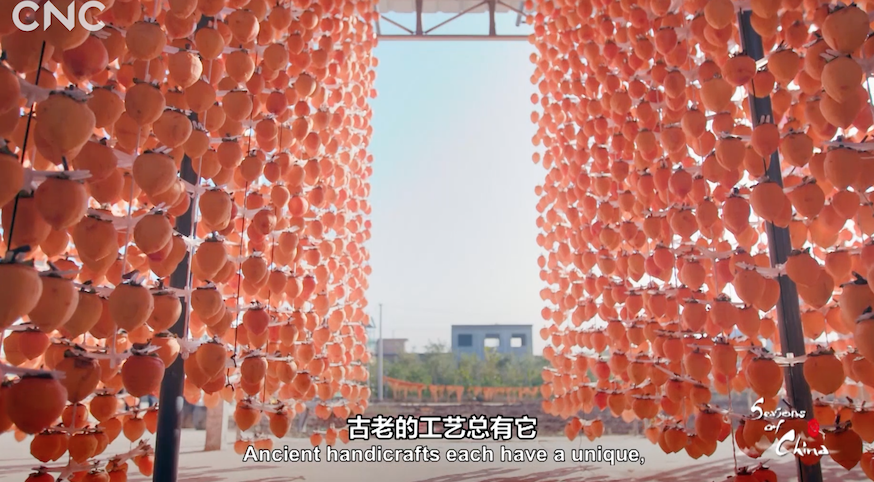 (DAN) Shuang Jiang eller 'Frost Kommer' er den 18. soltermin i de 24 soltermer i den kinesiske månekalender. Det er den sidste soltermin på efteråret og markerer overgangen fra efterår til vinter, hvilket betyder at vinteren er på vej. Denne soltermin falder normalt den 23. eller 24. oktober, men i år begynder den 23. oktober. Solterminen 'Frost Kommer' afspejler den store temperaturændring mellem dag og nat, og samtidig bliver vejret koldere. Luftfugtigheden begynder også at blive til frost. Efterårshøsten nærmer sig også afslutningen, og man ser endelig belønning for årets hårde arbejde.
Når Frost Kommer er verden fyldt med stemningen af det sene efterår. På dette tidspunkt er det meste af høstarbejdet allerede afsluttet i det nordlige Kina, og landmændene er endelig i stand til at hvile. Selv de mest koldt-bestandige afgrøder kan ikke længere vokse, så det er tid til at gøre klar til vinteren. Skønt i syd fortsætter høsten stadig. Ifølge de gamle kinesiske bøger henviser 'Frost Kommer' til den tid på året, hvor frost begynder at krybe ind over Kina, og dug bliver isnende, takket være faldende temperaturer.
I løbet af de dage under 'Frost Kommer' er der skikke som at nyde krysantemum blomster, spise kakifrugter, gå på vandreture og se seværdighederne højt oppe i bjergene, tage ekstra næring og så videre.
Spise Kakifrugt
I nogle dele af Kina spises røde kakifrugter under 'Frost Kommer'. Ifølge lokalbefolkningen kan dette ikke kun hjælpe folk med at modstå kulden, men også beskytte deres knogler. Et gammelt kinesisk ordsprog siger, at spise kakifrugter kan forhindre forkølelse og influenza, og på landet tror folk, at deres læber vil knække, hvis de ikke spiser kakifrugter i denne periode.
Nyde Krysantemum Blomster
I løbet af denne lyse efterårstid nyder kineserne også krysantemum blomster, der blomstrer i det sene efterår og er kendt som "lang levetidens blomst". Når efterårets krysantemum er i fuldt flor, vil der være en populær årlig krysantemummesse i løbet af denne tid for at vise respekt og kærlighed til krysantemum. Udover at nyde krysantemummerne forbereder folk også en fest.
Vandring og Nyde Udsigten fra Højt Oppe i Bjergene
I den gamle tid var der også skik at vandre og nyde udsigten fra højt oppe i bjergene under 'Frost Kommer'. Det siges, at vandreture kan øge en persons lungeventilation, vital kapacitet, blodcirkulation og cerebral blodgennemstrømning betydeligt for dermed at opnå formålet med at styrke den fysiske forebyggelse og behandling af sygdomme. Desuden kan klatring også opdyrke en persons vilje og temperament.