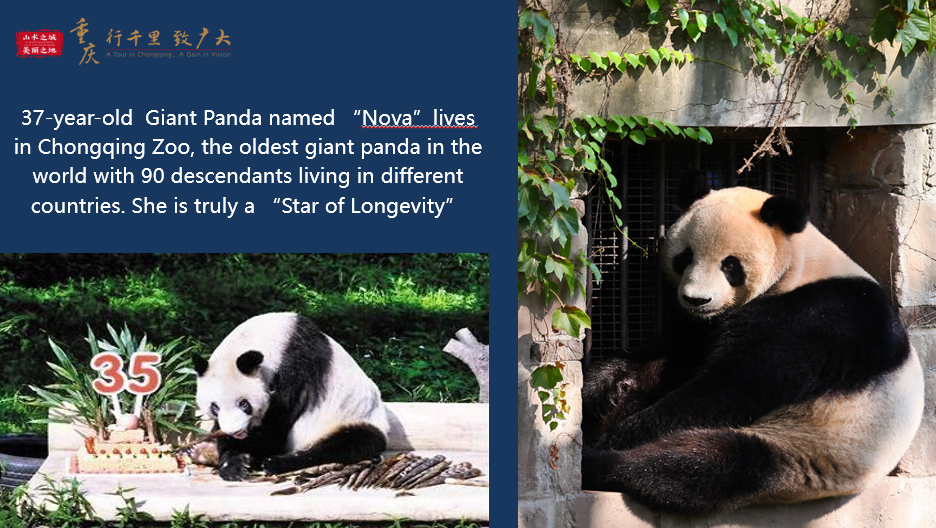 Chongqing is one of three cities in China that can independently breed pandas. At present, there are dozens of pandas in Chongqing Zoo, which receive more than 200,000 tourists every year. The panda house of Chongqing Zoo was built in 1960 and the Chongqing panda family still has two world records.
First, Chongqing Zoo has the largest number of pandas raised in zoo in the world. Second, Xin Xing, means the New Star, is the oldest panda in the world, who turns 38 years old this year equivalent to more than 100 human years and lives in Chongqing. Xin Xing was born in Sichuan Province in 1982 and is the matriarch of a huge family of 137 pandas, according to data from 2018. Her offspring are spread across the globe in more than 20 countries and regions including the United States, Canada and Japan. Last year, the good news came from Chongqing Zoo, where two giant pandas gave birth to two pairs of panda cubs, four in total. For this time, the four newborns are the fourth-generation offspring of Xin Xing and are considered as "Four Generations under One Roof". At present, there are 12 pandas which visitors can see (the four newborns not included), of which there are nine females and three males.
From the time Chongqing Zoo started to breed pandas in the 1980s, they had bred pandas 25 times with 36 pandas, among which there are 9 groups of twins and 1 triplet. The daily life of these cute panda cubs is just eating and sleeping. Every move is full of lovely signals, and they are very fond of swinging and climbing tires. The giant panda sits beneath the tree, nibbling at the fresh bamboo in his hand, holding the bamboo tightly in his arms, fearing that others will snatch it – A real food lover.
Since the pair of the Giant Pandas have arrived in Denmark in April 2019, the female Mao Sun and the male Xing Er, have become popular in Copenhagen Zoo. Queen Margrethe II opened the Panda House at Copenhagen Zoo in person and officially launched the Sino-Denmark Giant Panda Joint Research Cooperation Project. After that, many people visited Zoo to see these two adorable Pandas, and they became a symbol for the ties between Denmark and China.