Meishan, formerly known as Meizhou, was the hometown of Su Dongpo (1037-1101 AD), a great writer under the Northern Song Dynasty (960-1127 AD). As a mecca for his fans from all over the world, Meishan has the reputation as a thousand-year-old city of poetry.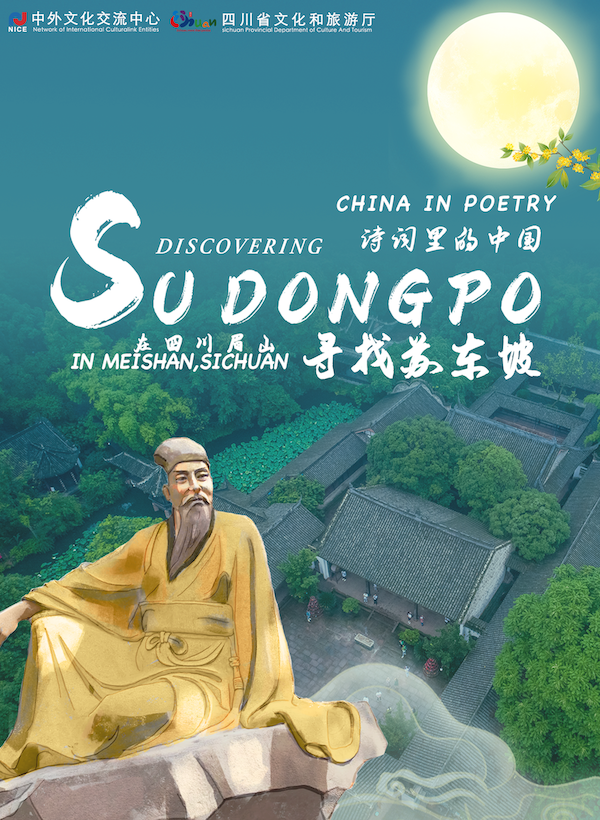 Excelling in poetry, prose, and calligraphy, Su Dongpo was reputed to be an artist of great versatility. His father Su Xun and younger brother Su Zhe were equally great writers in Chinese history. The profound "Three-Su Culture", which has its origins in Meishan, has remained influential for over 1000 years.
The Three-Su Ancestral Hall is the former residence and memorial hall of Su's family. When reliving his childhood days, Su Dongpo wrote: "Sitting in the southern study and facing a bushy forest of slender bamboos, I saw a huge flock of birds". The hall houses many buildings from the Qing Dynasty (1644-1912), remains of the Su mansion, as well as thousands of pieces of cultural relics and documents related to the Su family.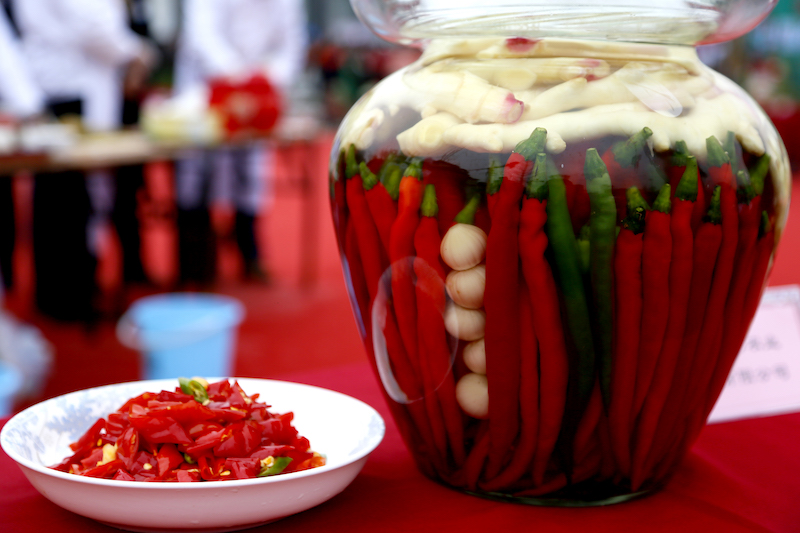 "I'm thinking of the bank of the Qingyi River, where an abundance of white fish and purple bamboo shoots removes your worry about their price". Su Dongpo never lost his passion for life. He managed to use small portions of wild greens, rice, and beans to invent the Dongpo soup, a jade-green tasty dish named after himself. By doing so, he made gastronomical delights more accessible to ordinary people, giving foods a touch of poetic beauty, which was doubled when shared.
Meishan is a land of abundance and gastronomy. There are many local delicacies related to Su Dongpo. To name but a few, Dongpo Pork Hock, Dongpo Fish, Dongpo Pickles, and Dongpo Pastry. They will never fail to please your palate.

In Meishan, the trace of Su Dongpo can be found in the parks, on the streets and around the ancient city walls. Calligraphy, painting, dance, and drama…People express their admiration and homage to him by different ways, which ensures the cultural continuity of Meishan, and gives the city a new vitality.
"People will live a long life, I pray. May they share with me the moonlight thousands of miles away". Su Dongpo was sensitive by nature and bold in literary style. He belongs as much to China as to the whole world. "Home is where I find peace of mind". Meishan welcomes you with open arms.
---
//DANISH
Meishan, tidligere kendt som Meizhou, var Su Dongpos (1037-1101 e.Kr.) hjemby, en fremragende forfatter i det nordlige Song-dynasti (960-1127 e.Kr.). Som et mekka for sine fans fra hele verden har Meishan ry for at være som en tusind år gammel poesi-by.
Su Dongpo udmærkede sig inden for poesi, prosa og kalligrafi og var kendt for at være en kunstner med stor alsidighed. Både hans far, Su Xun, og yngre bror, Su Zhe, var også kendte forfattere i den kinesisk historie. Den imponerende "Tre-Su Kultur", som har sin oprindelse i Meishan, har været indflydelsesrig i over 1000 år.
Tre-Su Forfædres Templet er Su familiens tidligere bopæl og mindehal. Da Su Dongpo genoplevede episoderne fra sine barndomsdage, skrev han: "Da jeg sad i det sydlige arbejdsværelse og vendte mod en busket skov af slanke bambus, så jeg en enorm flok fugle". I templet rummes mange bygninger fra Qing-dynastiet (1644-1912), rester af Su-palæet, samt tusindvis af stykker af kulturelle relikvier og dokumenter relateret til Su-familien.
"Jeg tænker på Qingyi-flodens bredden, hvor et væld af hvide fisk og lilla bambusskud fjerner din bekymring om deres pris." Su Dongpo mistede aldrig sin passion for livet. Han formåede at opfinde Dongpo-suppen ved at bruge små portioner af grøntsager, ris og bønner – en jadegrøn velsmagende ret opkaldt efter sig selv. Ved at gøre dette, var han i stand til at gøre gastronomiske lækkerier mere tilgængelige for almindelige mennesker, hvilket gav maden et strejf af poetisk skønhed, der blev fordoblet hver gang der blev delt.
Meishan er et land med rigdom og gastronomi. Der er mange lokale delikatesser relateret til Su Dongpo. For blot at nævne nogle få; Dongpo Pork Hock, Dongpo Fish, Dongpo Pickles, og Dongpo Pastry. Det vil altid lykkes dem at tilfredsstille dine gastronomiske ønsker.
I Meishan kan sporet af Su Dongpo findes i parkerne, på gaderne og omkring de gamle bymure. Kalligrafi, maleri, dans og drama… Folk udtrykker deres beundring og hyldest til ham på forskellige måder, hvilket sikrer Meishans kulturelle kontinuitet og giver byen en ny vitalitet.
"Folk vil leve et langt liv, beder jeg om. Må de dele måneskin med mig tusindvis af kilometer væk". Su Dongpo var følsom af natur og bogstaveligt talt frygtløs. Han tilhører lige så meget Kina som hele verden. "Hjem er hvor jeg finder ro i sindet". Meishan byder dig velkommen med åbne arme.