The beautiful melody of "Together for a Shared Future" has resounded worldwide, and the pace of the Winter Olympics is getting closer and closer. The two lovely mascots of the Winter Olympics, Bing Dwen Dwen and Shuey Rhon Rhon, have come to Denmark. They have seen the Little Mermaid, the statue of H.C. Andersen, Amalienborg Palace, and the marble church.
There is only one month to the opening ceremony of the 2022 Beijing Winter Olympics. After seven years of preparations, China can finally send a warm invitation to the world. Under the Five Olympic Rings, millions of people are excited and looking forward to the Beijing Winter Olympic Game, and the Danish athletes and athletes from all over the world are fully ready to go to this long-awaited ice-and-snow feast. Beijing looks forward to embracing the Olympics again. Bing Dwen Dwen and Shuey Rhon Rhon are sending blessings from Copenhagen to Beijing and hope that the Beijing Winter Olympics will once again present a wonderful Olympic gathering for the world.
---
//DANISH
Den smukke melodi af "Sammen om en Fælles Fremtid" har runget verden over, og vi nærmer os de olympiske vinterlege. De to kærlige maskotter fra vinter-OL, Bing Dwen Dwen og Shuey Rhon Rhon, er kommet til Danmark. De har set Den Lille Havfrue, ​​H.C. Andersen statuen, Amalienborg samt marmorkirken.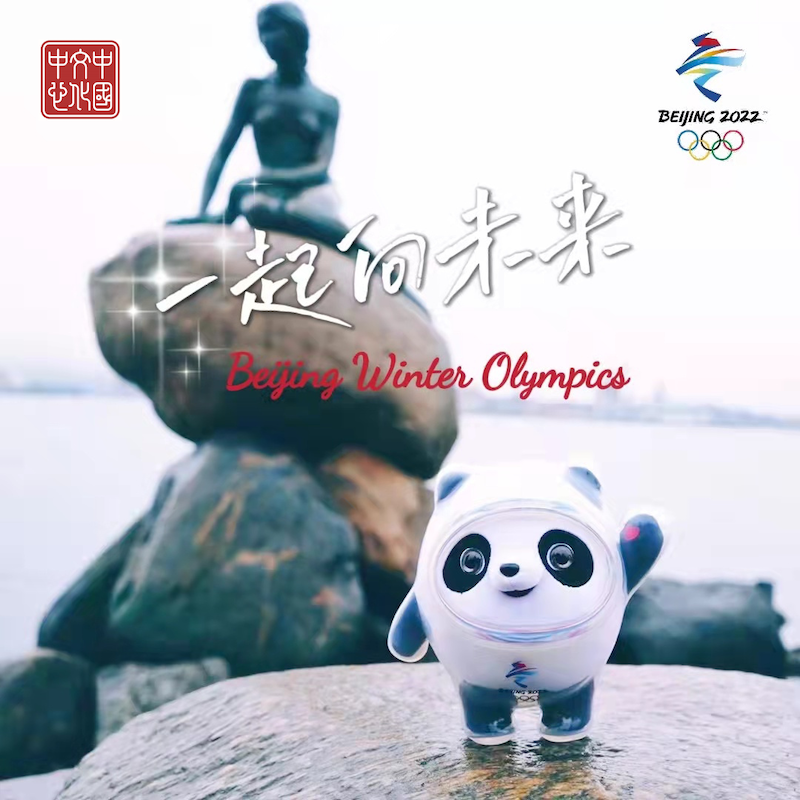 Der er kun en måned til åbningsceremonien for Vinter-OL 2022 i Beijing. Efter syv års forberedelser kan Kina endelig sende en varm invitation til verden. Under de fem olympiske ringe er millioner af menneser spændte og ser frem til vinter-OL i Beijing, og de danske atleter og atleter fra hele verden er fuldstændig klar til at tage til denne længe ventede is-og-sne fest. Beijing ser frem til at tage imod OL igen. Bing Dwen Dwen og Shuey Rhon Rhon sender velsignelser fra København til Beijing og håber, at Vinter-OL i Beijing igen vil præsentere en vidunderlig olympisk sammenkomst for verden.