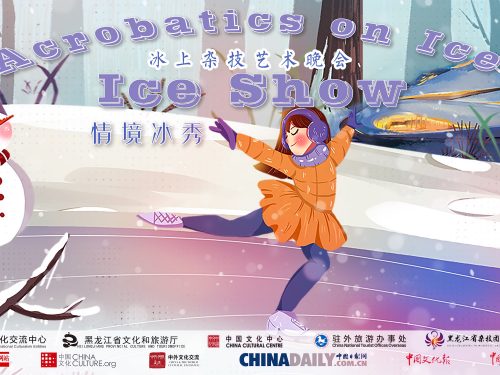 (ENG) February 4th, 2021 marks one year until the 2022 Winter Olympic Games in Beijing begins. We look forward to the beautiful "encounter" between the happy Chinese New Year and the passionate Winter Olympics in 2022. The 2022 Beijing Winter Olympics will be a historic event, because Beijing becomes the first city to host both the Summer Olympics and Winter Olympics, which is very important to the entire history of the Olympic Games. In this COVID-19 pandemic, sports and physical activity are an indispensable part of our lives. Sports play an important role in social cohesion and solidarity; it can be said to be an important link for the entire society.
(DAN) Den 4. februar 2021 markerer et år tilbage til de olympiske vinterlege i Beijing 2022. Vi ser frem til det smukke "møde" mellem det glædelige kinesiske nytår og de lidenskabelige Vinter-OL i 2022. Vinter-OL i Beijing 2022 bliver en historisk begivenhed, fordi Beijing bliver den første by, der har arrangeret både sommer-OL og vinter-OL, hvilket er meget vigtigt for hele de olympiske leges historie. I denne COVID-19-pandemi er sport og fysisk aktivitet en uundværlig del af vores liv. Sport spiller en vigtig rolle i social samhørighed og solidaritet; det kan siges at være et vigtigt led for hele samfundet.
(ENG) As the preparations for the Beijing Winter Olympics proceed smoothly, the attentions from the whole world are going to focus on the "encounter" between Chinese Spring Festival and the Winter Olympics in Beijing. By then, Beijing becomes the first city in the world to have hosted both the summer and winter editions of the Olympic Games. It will write a new chapter in the community of shared future for mankind.
(DAN) Da forberedelserne til vinter-OL i Beijing forløber glat, vil opmærksomheden fra hele verden fokusere på "mødet" mellem den kinesiske forårsfestival og vinter-OL i Beijing. På det tidspunkt bliver Beijing den første by i verden, der har været vært for både sommer-OL og vinter-OL. Det vil skrive et nyt kapitel i fællesskabet med fælles fremtid for menneskeheden.
(ENG) Ice Show – The "Acrobatics on Ice" will present the snow and ice culture and the history of Heilongjiang Province with short videos. Relying on the ice and snow resources of China's Heilongjiang Province and featuring the unique urban characteristics of Harbin, it creates a situation ice show integrating performers, ice, scenery, and passion, while upholding the concept of "an ode to vitality and vigor in life with ice as the stage, the city as the background, and people as the core". The performers devote their enthusiasm to the performance to immerse the audience in the plot of the shows, establishing the image of Longjiang as a desirable destination for snow and ice tourism and telling China's stories well with best wishes for Spring Festival 2021 to all peoples of the world.
(DAN) Ice Show – "Akrobatik På Is" præsenterer sne- og is-kulturen og Heilongjiang-provinsens historie med korte videoer. Afhængige af is- og sne-ressourcerne i Kinas Heilongjiang-provins og med de unikke bymæssige egenskaber ved Harbin, skaber det en is-show, der integrerer kunstnere, is, landskaber og lidenskab, samtidig med at konceptet "en ode til vitalitet og livskraft i livet opretholdes med is som scene, byen som baggrund og mennesker som kernen". Kunstnerne giver deres entusiasme til forestillingen med det formål til at få publikum fordybe sig i plottet, hvilket skaber billedet af Longjiang som en ønskelig destination, en verden af is og sne, og sender de bedste lykønskninger til både den kinesiske forårsfestival 2021 og alle mennesker i verden.
Watch the Ice Show here: