The days before the Chinese New Year's Eve, the glazed double façade of the Confederation of Danish Industry (DI), an architectural landmark in the heart of Copenhagen, once again lit up "China Red". The words "Happy Chinese New Year" in both Chinese and English kept lighting up, which gives a warm atmosphere of "Chinese New Year" to the fairy tale city of Copenhagen.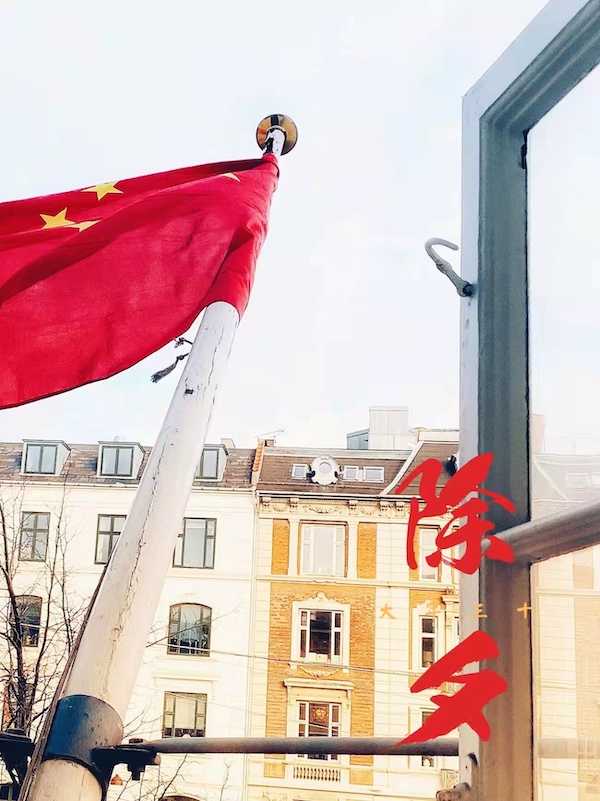 As the night began to fall, the red lights illuminated charmingly across the City Hall Square. Many people came and stopped by to appreciate the festive and cheerful colors of the DI building. Some of them were a group of Chinese culture lovers who agreed in advance to meet at the City Hall Square to see the beautiful light. There were running conversations about their experience of working or studying in China and the unique charm of Chinese culture. In addition, they also brought a slogan in Chinese, which says – "China-Denmark Friendship – Happy Chinese New Year". Some waved Chinese paper flags, and some carried small red lanterns, all shouting in unison – "We wish you a prosperous year of Tiger!" – a New Year's greeting to the Chinese people.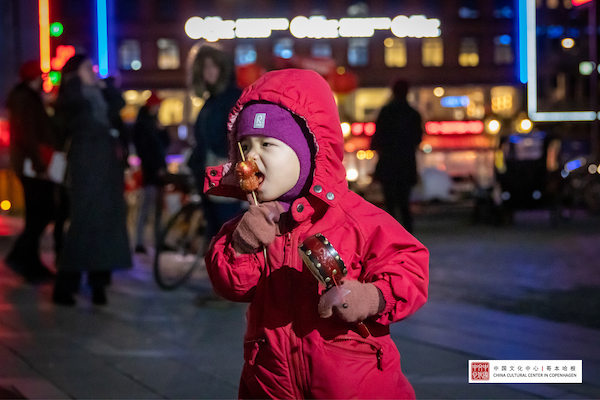 This year is the fourth consecutive year that the China Cultural Center is cooperating with the Confederation of Danish Industry to light up its building during the Chinese New Year. The cooperation aims to deepen the understanding of the Chinese culture, promote mutual understanding between the Chinese and Danish people and promote the continuous development of Sino-Danish friendship. The Confederation of Danish Industry (DI) is Denmark's largest, most representative, and most influential business and employer's organization, representing more than 10,000 member companies. DI works to provide the best conditions for Danish businesses in order to improve opportunities for growth, develop international markets, the overall competitiveness, and especially promote Danish green solutions globally. It has played an active role in promoting the friendship between China and Denmark, especially in economic and trade cooperation. In recent years, DI has organized a large number of Danish industrial and commercial enterprises to China to participate in Chinese exhibitions such as the China International Import Expo.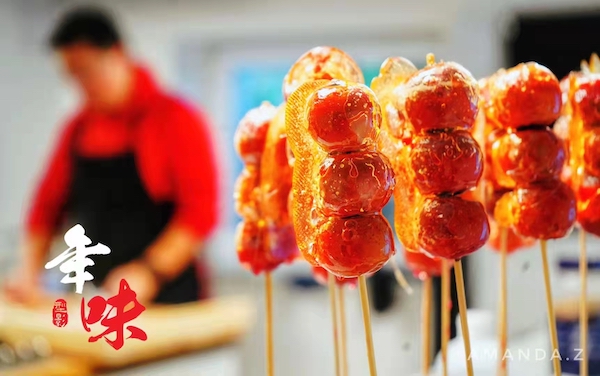 According to the Chinese zodiacs, 2022 brings the Year of the Tiger. In traditional Chinese culture, the tiger is the king of all beasts in China and is associated with bravery, confidence, and strength. Since the old days of China, people have also used idioms that include the word "tiger" to praise the brave and fearless people in life.
The China Cultural Center in Copenhagen wishes you luck in the year of the Tiger!
---
//DANISH
Den dobbelte glasfacade på Industriens Hus (DI), vartegn for det centrale København, lyste igen "Kina Rød" dagene op til det kinesiske nytår. Ordene "Glædelig Kinesisk Nytår" på både kinesisk og engelsk blev ved med at oplyse, hvilket giver en varm stemning af "kinesisk nytår" til eventyrbyen København.
Da natten begyndte at falde på, oplyste de røde lys charmerende hen over Rådhuspladsen, og mange mennesker kom forbi og stoppede op for at værdsætte DI-bygningens festlige og muntre farver. Nogle af dem var en gruppe kinesiske kulturelskere, der aftalte på forhånd om at mødes på Rådhuspladsen for at se det smukke lys. Der var kørerende samtaler om deres oplevelse med at arbejde eller studere i Kina samt den unikke charme ved kinesisk kultur. Derudover medbragt de også et slogan på kinesisk, hvorpå der stod "Kina-Danmark Venskabet – Glædelig Kinesisk Nytår". Nogle viftede med kinesiske papirflag, og nogle bar små røde lanterner og alle sammen råbte i kor – "Vi ønsker jer et lykkebringende tiger-år!" – en nytårshilsen til det kinesiske folk.
I år er det fjerde år i træk, at Det Kinesiske Kulturcenter samarbejder med Industriens Hus om at oplyse sin bygning til det kinesiske nytår. Formålet med samarbejdet er at uddybe forståelsen for ​​den kinesiske kultur, fremme gensidig forståelse mellem det kinesiske og det danske folk og fremme den fortsatte udvikling af kinesisk-dansk venskab. Industriens Hus (DI) er Danmarks største, mest repræsentative og mest indflydelsesrige arbejdsgiver- og erhvervsorganisation med mere end 10.000 medlemsvirksomheder. DI arbejder for at skabe de bedste vilkår for danske virksomheder for at forbedre mulighederne for vækst, udvikle internationale markeder, det overordnet konkurrenceevne og især fremme grønne danske løsninger globalt. Det har spillet en aktiv rolle i at fremme venskabet mellem Kina og Danmark, især inden for det økonomiske og handelsmæssige samarbejde. I de senere år har DI organiseret en lang række danske industri- og kommercielle virksomheder til Kina for at deltage i kinesiske udstillinger såsom China International Import Expo.
Ifølge de kinesiske stjernetegn er 2022 Tigerens år. I den traditionelle kinesiske kultur er tigeren kongen af alle dyr i Kina og er forbundet med tapperhed, selvtillid og styrke. Siden de gamle dage i Kina har folk også brugt idiomer, der inkluderer ordet "tiger", til at rose de modige og frygtløse mennesker i livet.
Det Kinesiske Kulturcenter i København ønsker dig held og lykke i Tigerens år!