On May 21st, China Cultural Center in Copenhagen hosted the "Tea for Harmony" tea ceremony inviting nearly 40 guests in Denmark to experience Chinese tea culture. This day not only marked the International Tea Day designated by UN, but also coincided with the solar term of Grain Buds (Xiaoman) in the lunar calendar.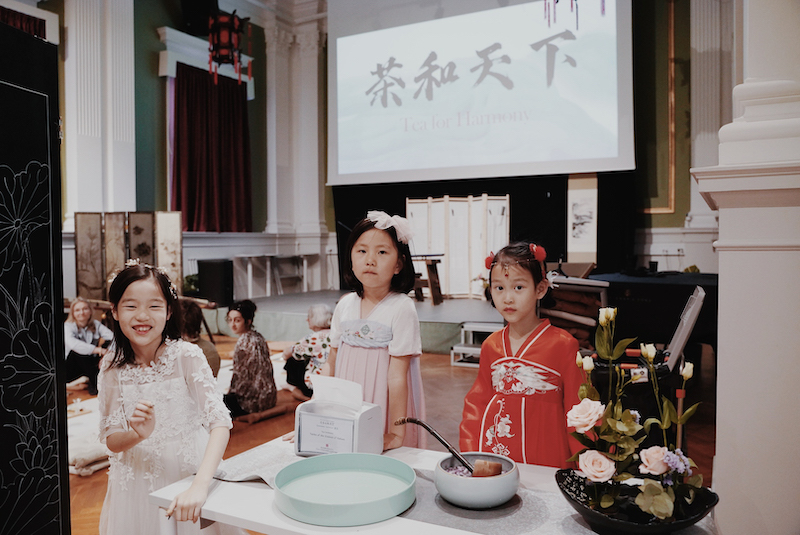 Zheng Wen, the director of China Cultural Center in Copenhagen, introduced the rich and profound history of Chinese tea culture to the guests, hoping that this Tea ceremony would become a gathering where people from different cultural backgrounds could come together, fostering cultural exchange and harmony.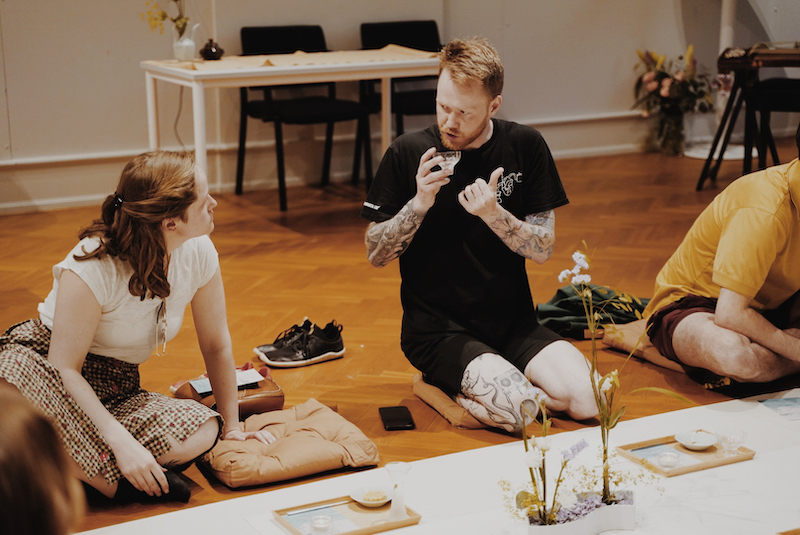 For this tea gathering, three Danish tea lovers were invited as tea brewers. Sitting on the floor, a 40-meter-long tea table on the ground flowed gracefully through the venue like a stream, with the tea brewers sitting among the guests seated on both sides. The tea table showcased glassware tea sets and celadon inspired by Song Dynasty (960-1279 AD) tea utensils, aiming to exhibit the elegant float and natural beauty of green tea in the water. Flower arrangements and candle holders created an atmosphere of refinement and grace.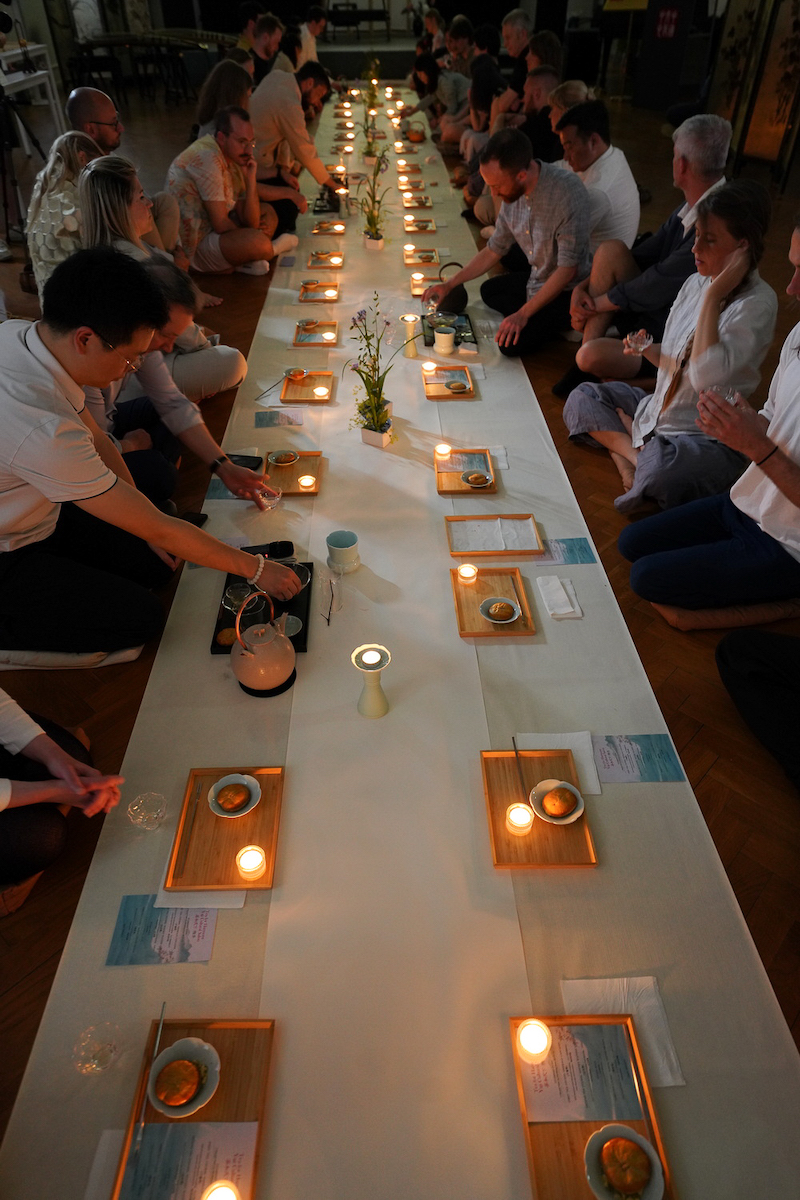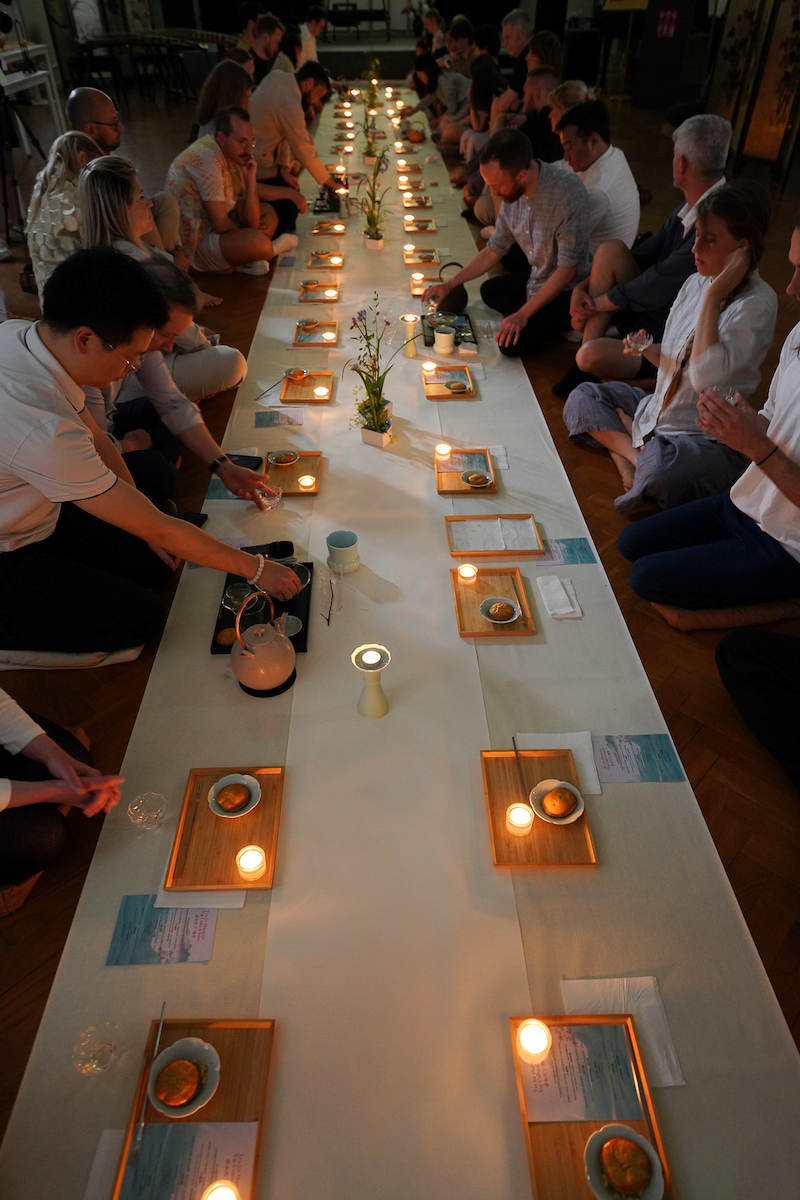 Deviating from the traditional hosting format, the tea ceremony employed multimedia presentations to provide background information for each tea served. Gentle and melodious music accompanied the tea sessions, with the enchanting duet of Guzheng performing and the solo performance of the guqin playing, allowing guests to appreciate the charm of different Chinese musical instruments.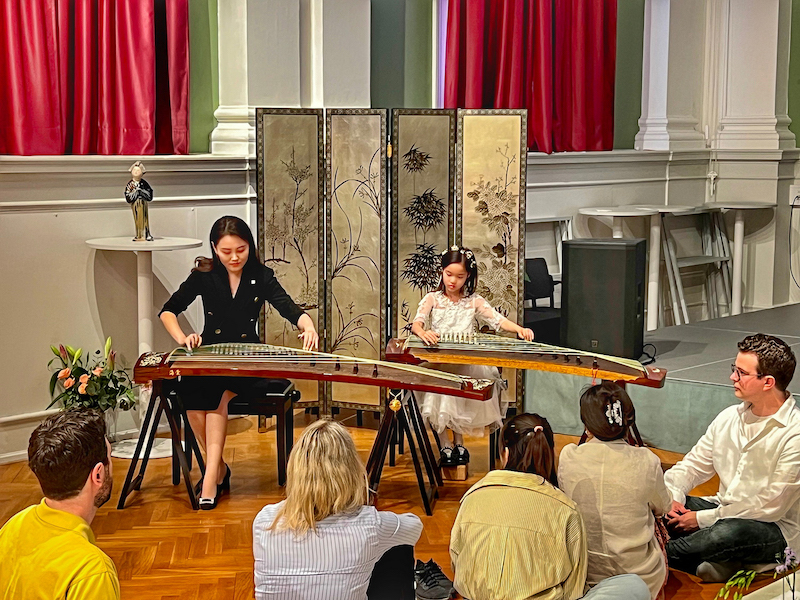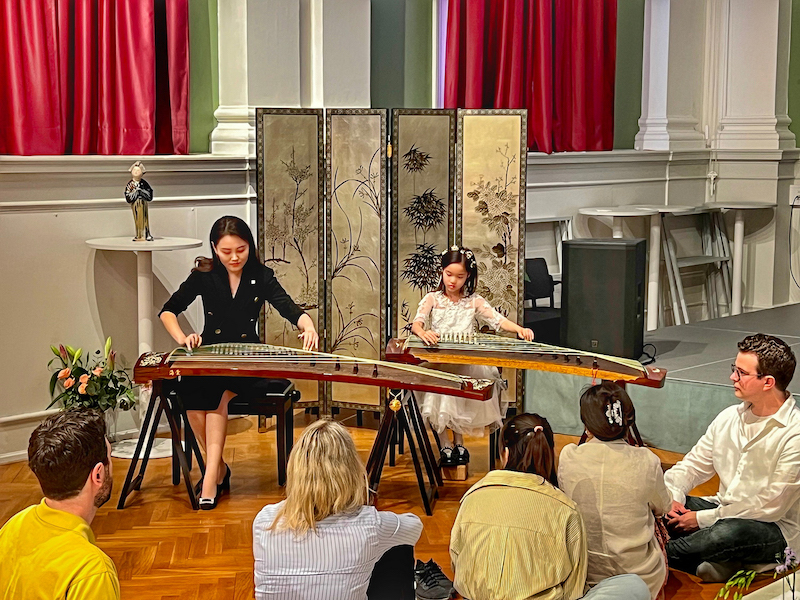 The tea ceremony presented three different tea brewing methods: traditional Gaiwan steeping, cold brew, and bowl steeping, offering guests diverse tea-drinking experiences and expressing the versatility of tea. Each tea session was complemented by Chinese tea snacks, fully embodying the elegant lifestyle of ancient Chinese culture. The final tea session concluded with the dimming of lights, creating a unique candlelit night excursion experience accompanied by the tranquil sound of flowing water. Whether it was the refreshing clarity of Longjing tea or the sweet fragrance hidden in Silver Needle Jasmine, both left a profound impression on the guests.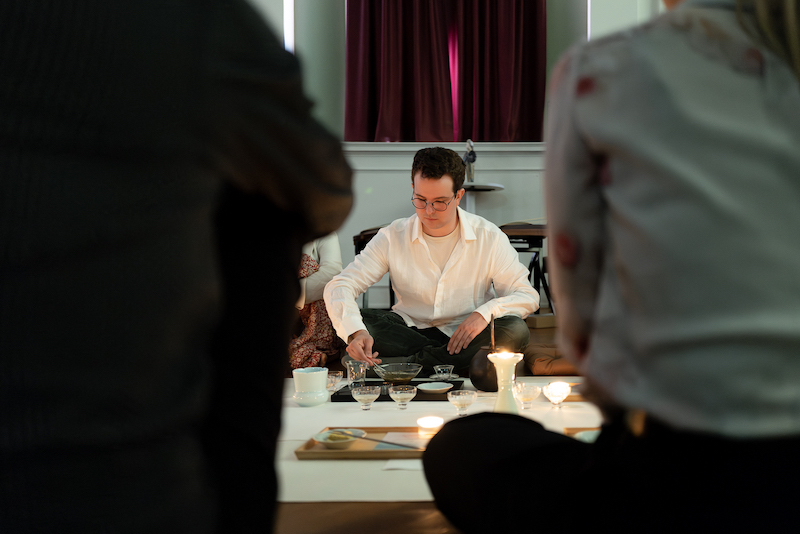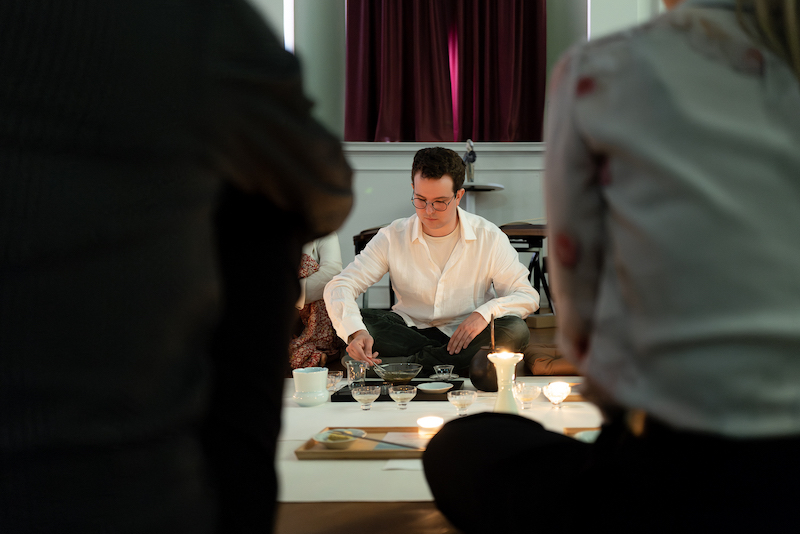 The "Tea for Harmony · Yaji-Cultural Salon" organized by China Cultural Center in Copenhagen once again delighted Danish tea culture enthusiasts and allowed those in Denmark, who were encountering tea culture for the first time, to immerse themselves in the experience of Chinese aesthetics embedded in tea culture.
---
//DANISH
Den 21. maj blev "Te for Harmoni" te-ceremonien afholdt på det kinesiske kulturcenter i København, hvor næsten 40 gæster i Danmark blev inviteret til at få en oplevelse af den kinesiske te-kultur. Denne dag markerede ikke blot FN's internationale tedag, men det faldt også sammen med solperioden Kornet Fyldes i den kinesiske månekalender.
Direktøren for det kinesiske kulturcenter i København, Zheng Wen, præsenterede de rige historiske aspekter af den kinesiske tekultur for gæsterne. Hensigten med teaceremonien var at skabe et rum, hvor mennesker med forskellige kulturelle baggrunde kunne mødes og fremme kulturel udveksling og harmoni.
Til denne te-sammenkomst blev tre danske teelskere inviteret som tebryggere. Mens man sad på gulvet, flød et tebord, der strakte sig over 40 meter, elegant gennem lokalet som en strøm, og tebryggerne indtog deres plads blandt gæsterne på begge sider. Tebordet fremviste glasagtige tesæt og te-redskaber inspireret af æstetikken fra Song-dynastiet (960-1279 e.Kr.), med det formål at præsentere den elegante, flydende og naturlige skønhed af grøn te i vandet. Bordet blev yderligere pyntet med blomsteropstillinger og lysestager, hvilket skabte en atmosfære af forfinelse og elegance.
Som en afvigelse fra den traditionelle værtsrolle blev der under teceremonien brugt multimedie-præsentationer til at give baggrundsinformation om hver serveret te. Te-sessionerne blev akkompagneret af blid og melodisk musik, herunder den fortryllende duet af Guzheng og solo-optræden af guqin, som tillod gæsterne at værdsætte charmen ved forskellige kinesiske musikinstrumenter.
Der blev præsenteret tre forskellige metoder til tebrygning: traditionel Gaiwan-metode, koldbrygning og skål bryggemetode. Dette gav gæsterne mulighed for at opleve forskellige te-drikkeoplevelser og udtrykte samtidig teens alsidighed. Hver tesession blev suppleret med kinesiske te-snacks og afspejlede den elegante livsstil i den gamle kinesiske kultur. Den sidste tesession blev afsluttet med dæmpet belysning, stearinlys og lyden af roligt flydende vand. Uanset om det var den forfriskende klarhed i Longjing-te eller den søde duft af jasmin sølv nål, efterlod begge varianter et dybt indtryk på gæsterne.
"Te for Harmoni – Yaji-Kultursalon", som blev afholdt af det kinesiske kulturcenter i København, formåede endnu engang at glæde de danske entusiaster af te-kultur og åbnede muligheden for, at de danskere, der for første gang stiftede bekendtskab med te-kulturen, kunne fordybe sig i oplevelsen af den kinesiske æstetik, der er indlejret i te-kulturen.