"The Chinese Way & The Belt and Road Initiative – a Civilizational State Perspective" is a lecture by Weiwei Zhang, director of the China Institute at Fudan University. In this lecture, Professor Zhang explains the development of China with data and examples. From e-commerce to fintech, and from fintech to breakthrough in the field of AI and quantum communications, China's "Fourth Industrial Revolution" is proceeding quietly. Professor Zhang believes that the Chinese have found their own paths to successful development. He also explains the "China Model" and its enlightenment to the Belt and Road Initiative from the political, economic and social levels. He emphasizes the key role played by the Communist Party of China in China's rapid economic growth. In addition, Professor Zhang also shares the distribution and routes of the "Belt and Road" in the lecture. He believes that the Belt and Road Initiative conforms to the development of the New Era and it is the deepening and continuation of China's reform and opening-up and shares China's development approach to the world.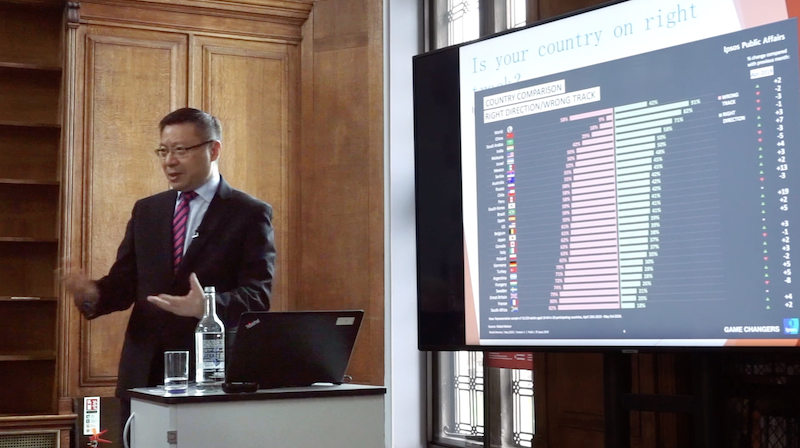 About Weiwei Zhang:
Weiwei Zhang is a distinguished professor of Fudan University, Director of the China Institute at Fudan University, a board member of China's National Think Tanks Council and a senior researcher at the Chunqiu Institute in Shanghai. He was named the top ten Chinese think tanks in 2016 by Guangming Daily. He was a former visiting fellow at Oxford University and a professor of International Relations at the Geneva School of Diplomacy and International Relations, a senior researcher at the Centre for Asian Studies of the University of Geneva, and an adjunct professor at many universities in China. In the mid-1980s, he worked as an English interpreter for many Chinese leaders and visited over 100 countries. He has published a large number of books and articles on China's political and economic reforms, the Chinese model of development, China's foreign policy and comparative political governance, including the best-selling and award-winning "China Trilogy" being The China Ripple, The China Wave and The China Horizon, among these the book The China Wave has sold more than one million. Zhang's online video "The Chinese, You Need to Be Confident" has hundreds of millions of views and it had a great social impact. He started the first Chinese political talk show "This is China" on Dragon TV in Shanghai, which also became very popular among the population.
Click the play button below to watch the first episode
---
//DANISH
"Den Kinesiske Vej & One Belt One Road-Initiativet – Et Civiliserende Statsperspektiv" er et foredrag af Weiwei Zhang, direktør for China Institute på Fudan University. I dette foredrag forklarer professor Zhang Kinas udvikling med data og eksempler. Fra e-commerce til fintech og fra fintech til gennembrud inden for AI og kvantekommunikation forløber Kinas "fjerde industrielle revolution" sig stille og roligt. Professor Zhang mener, at det kinesiske folk har fundet deres egne veje til succesfuld udvikling. Han forklarer desuden "Kina-Modellen" og dens oplysning til Belt and Road-initiativet set fra den politiske, økonomiske og sociale plan. Han understreger den centrale rolle, som Kinas kommunistiske parti spiller i den hurtige økonomiske vækst i Kina. Derudover redegør professor Zhang også fordelingen og ruterne for "Belt and Road" i foredraget. Han mener, at Belt and Road-initiativet tilpasser sig efter udviklingen af ​​den nye æra, og det er en uddybning og udvidelse af Kinas reform og åbning og deler Kinas udviklingsmetode til verden.
Om Weiwei Zhang
Weiwei Zhang er en fremtrædende professor på Fudan University, direktør for China Institute på Fudan University, bestyrelsesmedlem i Kinas Nationale Tænketank og seniorforsker ved Chunqiu Institut i Shanghai. Han blev kåret til top ti kinesiske tænketanke i 2016 af Guangming Daily. Han var tidligere gæsteforsker på Oxford University og professor i internationale relationer ved Geneva School of Diplomacy and International Relations, seniorforsker på center for asiatiske studier på University of Geneva og adjungeret professor på mange universiteter i Kina. I midten af ​​1980'erne arbejdede han som engelsk tolk for mange kinesiske ledere og havde besøgte over 100 lande. Han har udgivet mange bøger og artikler om Kinas politiske og økonomiske reformer, den kinesiske udviklingsmodel, Kinas udenrigspolitik og komparativ politisk styring, herunder den bedst sælgende og prisvindende "Kina Trilogi", som er The China Ripple, The China Wave og The China Horizon, heriblandt har bogen The China Wave solgt mere end en million. Zhangs online video "Kineser, Du Skal Være Selvsikker" har millioner af visninger og havde en stor social indflydelse. Han startede det første kinesiske politiske talkshow "Det er Kina" på Dragon TV i Shanghai, hvor det også blev meget populært blandt befolkningen.