(ENG) Peking Opera, or Beijing Opera, is known as "National Opera" and is an important form of representing the traditional Chinese culture. It is also the most dominant form of Chinese opera in which various artistic elements are used as symbols of traditional Chinese culture. Some famous classics of Peking Opera include "Farewell My Concubine", "The Legend of the White Snake", "The Drunken Concubine" and so on.
(DAN) Peking Opera, eller Beijing Opera, er kendt som "National Opera" og er en vigtig repræsentationsform for den traditionelle kinesiske kultur. Det er også den mest dominerende form for kinesisk opera, hvor forskellige kunstneriske elementer bruges som symboler for den traditionelle kinesiske kultur. Nogle berømte klassikere fra Peking Opera inkluderer "Farvel Min Konkubine", "Legenden om den Hvide Slange", "Den Berusede Konkubine" og så videre.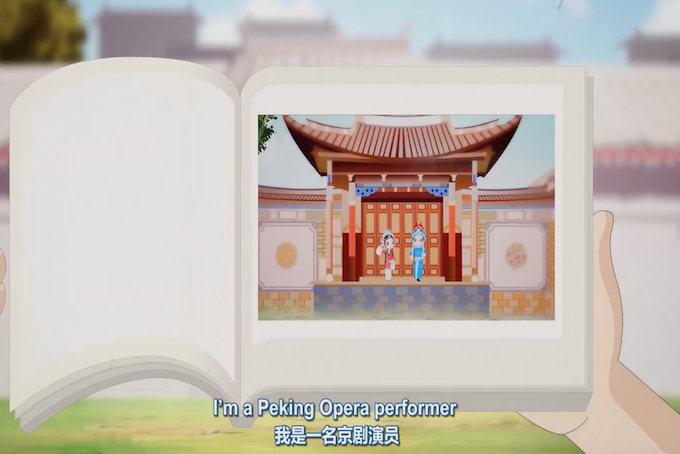 (ENG) Peking Opera is a comprehensive performing art, which combines singing, acting, dancing, mime and acrobatics in order to narrate the story, create characters, and express different thoughts and feelings. There are four types of role in Peking Opera – namely, the Sheng (male role), Dan (female role), Jing (painted face, male role), and Chou (clown, both female and male role). Characters can be divided into loyal and treacherous, beautiful and ugly, good and evil. Each image is vivid and lifelike. The music of Peking Opera can be divided into the Xipi and Erhuang styles, accompanied especially by Huqin, drums and gongs and so on.
(DAN) Peking Opera er en omfattende scenekunst, der kombinerer sang, skuespil, dans, mime og akrobatik for at fortælle historie, skabe karakterer og udtrykker forskellige tanker og følelser. Der er fire typer roller i Peking Opera – nemlig Sheng (mandlig rolle), Dan (kvindelig rolle), Jing (malet ansigt, mandlig rolle) og Chou (klovn, både kvindelig og mandlig rolle). Karakterer kan være opdelt i loyal og forræderisk, smuk og grim, god og ond. Hvert billede er levende og livagtige. Musikken fra Peking Opera kan opdeles i Xipi og Erhuang stilarter, akkompagneret af især af Huqin, trommer og gongs og så videre.
(ENG) Huadan, a branch of Dan field of China opera, is different from Zhengdan (in Northern operas, it is often called Qingyi), Wudan and Laodan. Most of Huadan are innocent, lovely and cheerful young women. The spring grass in Chuncao Chuang Tang has also some pungent young and middle-aged women called Pola dan. In the film and television industry, the Master of Huadan refers to the actors who are good at performing such a role, presumably a title borrowed from opera.
(DAN) Huadan, en gren af Dan-området i den kinesiske opera, adskiller sig fra Zhengdan (i de Nordlige operaer kalder man dette ofte for Qingyi), Wudan og Laodan. Det meste af Huadan er uskyldige, kærlige og muntre unge kvinder. Forårsgræsset i Chuncao Chuang Tang har også nogle skarpe unge og middel aldrende kvinder kaldet Pola dan. I film- og tv-industrien henviser Master of Huadan til skuespillere, der er gode til at udføre en sådan rolle, formodentlig en titel lånt fra opera.
(ENG) Huadan is also known as Da Huadan and Xiao Huadan. Da Huadan, despite her humble status, grew up in a rich family, like a maidservant in a play. The Hong lady in The Romance of the West Chamber or Hongniang is Da Huadan. Xiao huadan is a lady of a small family or a maidservant, for example, Jin Yunu in The Story of Douzhiji, Han Yujie in Kan Yuchuan and Chunlan in Huatiancuo are all Xiao huadan.
(DAN) Huadan er også kendt som Da Huadan og Xiao Huadan. Da Huadan trods sin ydmyge status voksede op i en rig familie, ligesom en tjenestepige i et teaterstykke. Hong-damen i The Romance of the West Chamber eller Hongniang er Da Huadan. Xiao huadan er en ung kvinde i en lille familie eller en tjenestepige, for eksempel Jin Yunu i The Story of Douzhiji, Han Yujie i Kan Yuchuan og Chunlan i Huatiancuo er alle xiao huadan.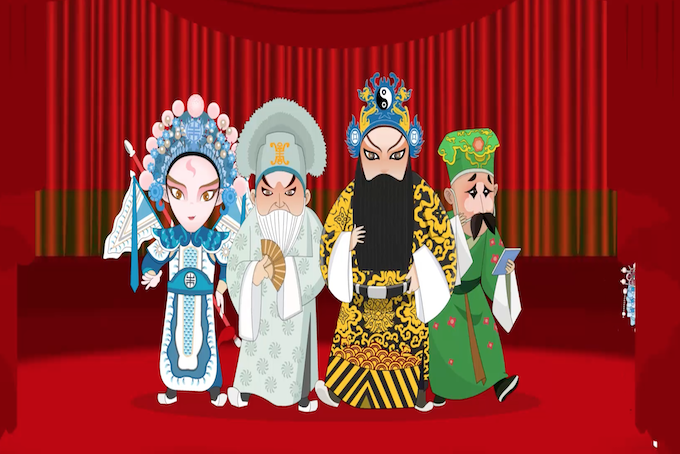 (ENG) Through the long-term of theatrical practices of countless artists in various aspects such as literature, performance, music, singing, gongs and drums, makeup, and facial makeup, the stage art performance of Peking Opera constitutes a set of regular and standardized forms that restrict each other and complement each other. It is very rich in artistic ideas and creative methods to create the image of the stage, and there are strict rules for how it should be done. If these requirements cannot be met then the creation of Peking Opera stage art performance cannot be completed.
(DAN) Gennem de langsigtede teatralske øvelser af utallige kunstnere i forskellige aspekter såsom litteratur, performance, musik, sang, gongs og trommer, makeup og ansigtsmakeup udgør scenekunstopførelsen af Peking Opera en sæt af regelmæssige og standardiseret former, der begrænser og supplerer hinanden. Den er meget rig på kunstneriske ideer og kreative metoder til at skabe scenebilledet, og der er strenge regler for hvordan det skal udføres. Hvis disse krav ikke kan overholdes, kan opførelsen af Peking Opera-scenekunsten ikke gennemføres.
Watch the video here: https://youtu.be/TyRK3jf51_8