With the arrival of spring, it is customary to consume spring wraps and spring rolls as a way of ushering in the new season. The custom of eating spring wraps dates back to the Jin Dynasty (266–420 AD.) and experienced its peak during the Tang Dynasty (618-907 AD). They are typically served in a box or a disc. The wrap is placed in the center, and the fillings or side dishes are placed around it, so it is also referred to as a spring plate.
The staff of the China Cultural Center in Copenhagen utilized seasonal ingredients in the creation of spring wraps. They documented the preparation process and released a short video entitled "Seasonal Cuisine – Spring Wrap", with the intention of extending an invitation to friends in Denmark to experience this delicious Chinese dish.
Recipe
Ingredients
Spring wraps, Chinese Chives, bean sprouts, sweet bean sauce, star anise, light soy sauce, and mature vinegar (available in Chinese food stores)
Pork, eggs, cucumbers, carrots, green onions, garlic (available in Danish supermarkets)
Here is how you do it
Scrambled eggs with Chinese Chives: Beat 3 eggs in a bowl and add 1 teaspoon of salt, then mix well. Cut Chinese chives into 2 cm long pieces. Pour oil into the hot pan. Pour scattered egg into the pan and fry until cooked. Take it out and set it aside. Heat up the pan again with some more oil, then add garlic slices and chives. Add scrambled eggs after Chives become soft, then add 1 teaspoon of salt, and 4 teaspoons of light soy sauce, mix well, and stir-fry for another 2 minutes Serve on a plate. 3 eggs and 200 grams of chives are enough for 2-3 people.
Stir-fried bean sprouts: Pour the oil into a hot pan. After the oil becomes hot, add Sichuan pepper and star anise as seasoning to enhance flavor. Add bean sprouts and stir-fry together. Add 1 teaspoon of salt, 4 teaspoons of light soy sauce, and 2 teaspoons of mature vinegar, and stir-fry until well mixed. Serve on a plate. 200 grams of bean sprouts is enough for 2-3 people.
Shredded Pork with sweet bean paste: Cut the pork into slices and marinate with salt and light soy sauce. Pour the oil into the hot pan. When the oil becomes hot, pour the pork slices in and stir-fry until the meat is mildly cooked. Add 8 teaspoons of sweet bean paste and stir-fry together for 5 minutes. Serve on a plate. 200 grams of pork is enough for 2-3 people.
Side vegetables: Cut the cucumbers, carrots, and scallions. One cucumber and one carrot are enough for 5-8 people.
Heating the spring wrap: Use a steamer or microwave to heat up the spring wraps. One package of spring wraps is enough for 6 people.
How to eat spring wraps?
Take a piece of spring wrap, spread a layer of sweet bean sauce, and add shredded pork slices, side vegetables, bean sprouts, etc. in turn, roll it up and eat it.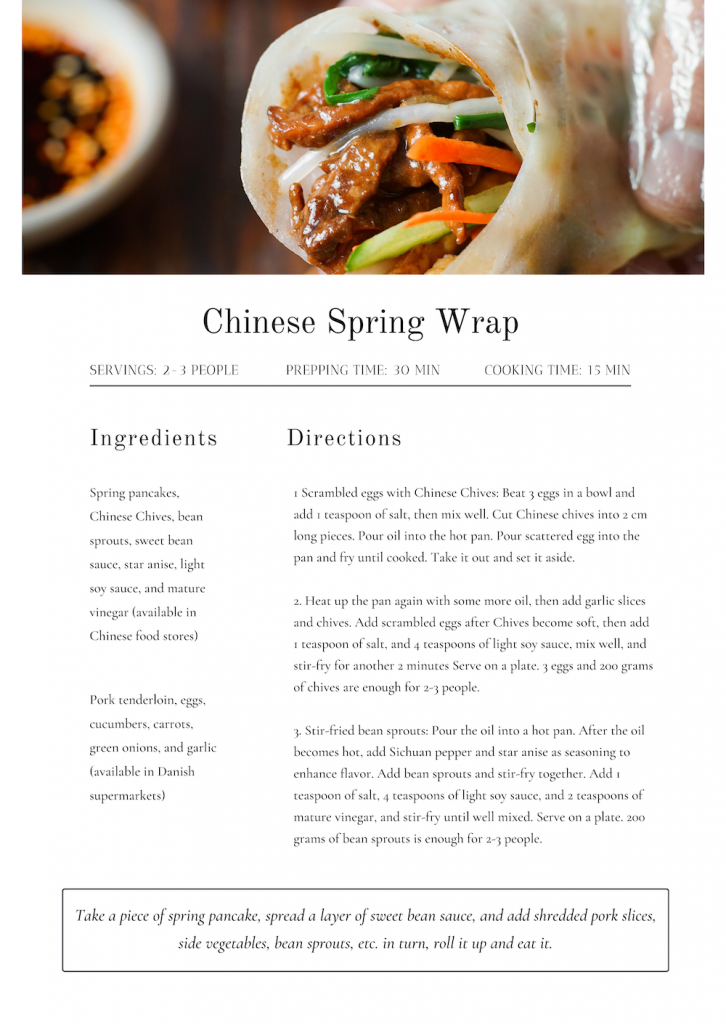 ---
//DANISH
Ved forårets ankomst er det en sædvanlig skik at indlede den nye sæson ved at spise forårswraps og forårsruller. Skikken med at spise forårswraps kan spores tilbage til Jin-dynastiet (266-420 e.Kr.) og var særlig udbredt i Tang-dynastiet (618-907 e.Kr.). De serveres traditionelt i en boks eller en skål, hvor forårswrappen anbringes i midten og fyldet eller tilbehøret placeres rundt omkring, hvorfor de også omtales som en forårstallerken.
Personalet på Det Kinesiske Kulturcenter i København anvendte sæsonbetonede ingredienser i tilberedningen af forårswraps. De dokumenterede tilberedningsprocessen og udgav en kort video med titlen "Årstidenskøkken – Forårswraps" med det formål at invitere danske venner til at smage denne lækre kinesiske ret.
Opskrift
Ingredienser
Forårswraps, kinesisk purløg, bønnespirer, sød bønnesauce, stjerneanis, lys sojasauce og mørk eddike (tilgængelig i kinesiske fødevarebutikker)
Svinekød, æg, agurker, gulerødder, forårsløg, hvidløg (tilgængelige i danske supermarkeder)
Sådan gør du:
Røræg med kinesisk purløg: Pisk 3 æg i en skål og tilsæt 1 teske salt, og rør godt. Skær kinesisk purløg i 2 cm lange stykker. Hæld olie i den varme pande. Hæld rørægget i panden og steg det, indtil det er kogt. Tag det ud og sæt det til side. Opvarm panden igen med lidt mere olie, tilsæt derefter hvidløgsskiver og purløg. Tilsæt røræg efter at purløgene er blevet bløde, tilsæt derefter 1 teske salt og 4 teskefulde lys sojasauce, rør godt og steg det i yderligere 2 minutter. Server på en tallerken. 3 æg og 200 gram purløg er nok til 2-3 personer.
Ristet bønnespirer: Hæld olie i en varm pande. Når olien er varm, tilsæt Sichuan-peber og stjerneanis som krydderi for at forbedre smagen. Tilsæt bønnespirer og steg dem sammen. Tilsæt 1 teske salt, 4 teskefulde lys sojasauce og 2 teskefulde mørk eddike, og steg det, indtil det er godt blandet. Server på en tallerken. 200 gram bønnespirer er nok til 2-3 personer.
Strimlet svinekød med sød bønnepasta: Skær svinekødet i skiver og marinér det med salt og lys sojasauce. Hæld olie i den varme pande. Når olien er varm, tilsæt svinekødet og steg det, indtil kødet er let kogt. Tilsæt 8 teskefulde sød bønnepasta og steg det sammen i 5 minutter. Server på en tallerken. 200 gram svinekød er nok til 2-3 personer.
Grøntsager: Skær agurker, gulerødder og forårsløg i skiver. En agurk og en gulerod er nok til 5-8 personer.
Opvarmning af forårswraps: Brug en dampkoger eller mikrobølgeovn til at varme forårswraps op. Én pakke forårswrap er nok til 6 personer.
Hvordan spiser man forårswraps?
Tag en stykke forårswrap, smør et lag sød bønnepasta på, og tilsæt derefter strimlet svinekød, grøntsager, bønnespirer osv. Rul det sammen og den er nu klar til servering.