On the evening of March 21st, the Royal Danish Library hosted a concert featuring internationally renowned composer Tan Dun's "Ghost Opera" as well as a performance of traditional Chinese music by Lucy Zhao and RelevanzEnsemble. The concert seamlessly integrated the pipa, a traditional Chinese musical instrument, with Western strings music, resulting in a remarkable chamber music concert experience.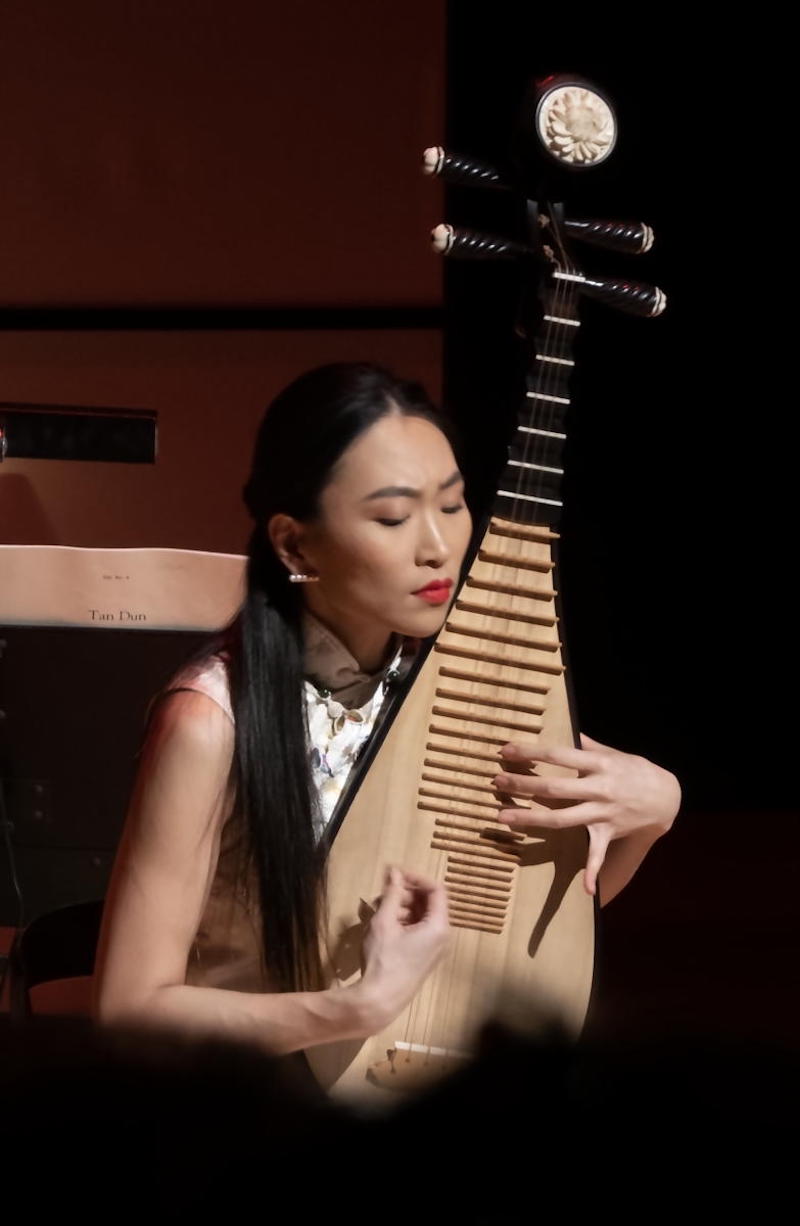 The concert began with the renowned solo pipa work titled "The Conqueror Doffs His Armor", which was performed by Lucy Zhao, a Chinese pipa player. The performance powerfully conveyed the tragic heroism of Xiang Yu (232-202 BC), a prominent military leader of ancient China during the late Qin Dynasty (221–206 BCE), who farewelled to his beloved concubine Yu Ji, drawing a sword and committed suicide after a tragic defeat, demonstrating a high degree of expressiveness, drama, and inner tension. Following this, Denmark's newest chamber music ensemble, RelevanzEnsemble, consisting of experienced top musicians, presented the String Quartet No. 1, Quartettino, originally composed by Finnish composer Einojuhani Rautavarra.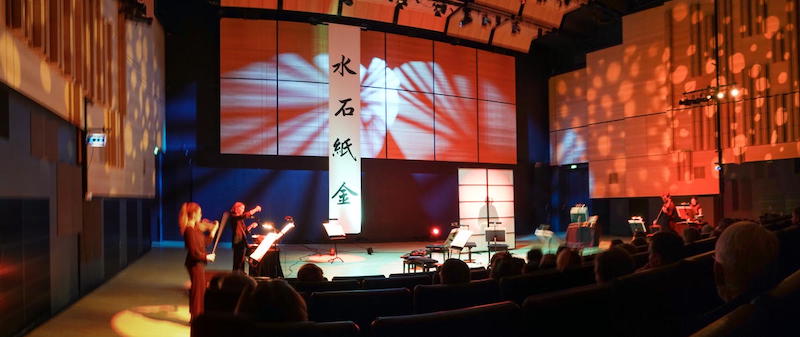 The work "Ghost Opera" by Tan Dun marked the climax of the concert. As a multimedia work, it was inspired by the Nuo opera of the Chu culture in ancient China, using Chinese ethnic instruments and opera music as the musical material and adopting the performance style of Western classical chamber music, expressing the collision and fusion of Chinese and Western cultures. The work perfectly combined the theme of Prelude and Fugue in C-Sharp Minor from Bach's "The Well-Tempered Clavier" with the melody of the Chinese folk song "Little Cabbage". It also incorporated a passage of dialogue from Shakespeare's "The Tempest" and added sounds of objects such as water, stones, paper, and metal performed live on stage. A huge vertical banner with large Chinese characters of "water, stones, paper, metal" was also displayed on stage, creating an overall atmosphere of Chinese culture.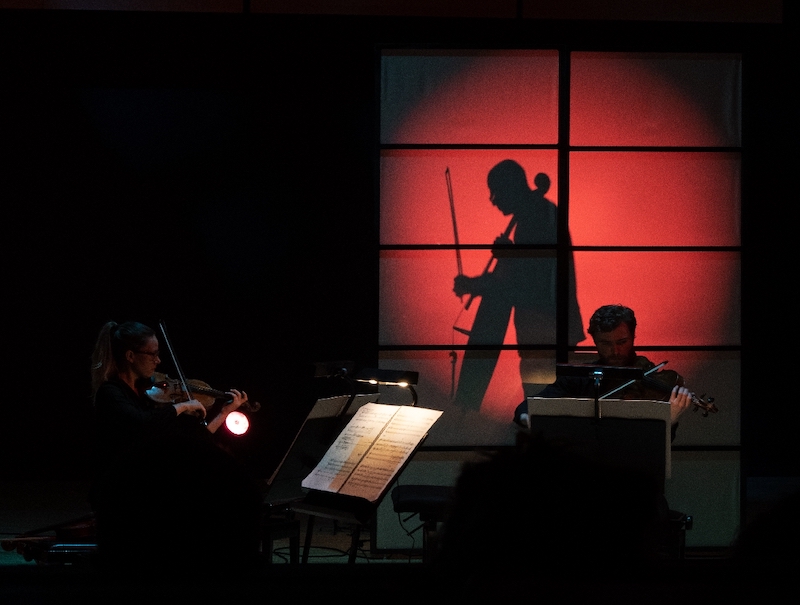 The concert was highly expressive and fluid, both in terms of the music works and performances, as well as the stage settings and use of lighting. It provided audiences with a stunning immersive audio-visual experience, presenting a theatrical environment that was familiar yet unfamiliar to Western audiences and allowing them to experience the unique charm of Chinese culture.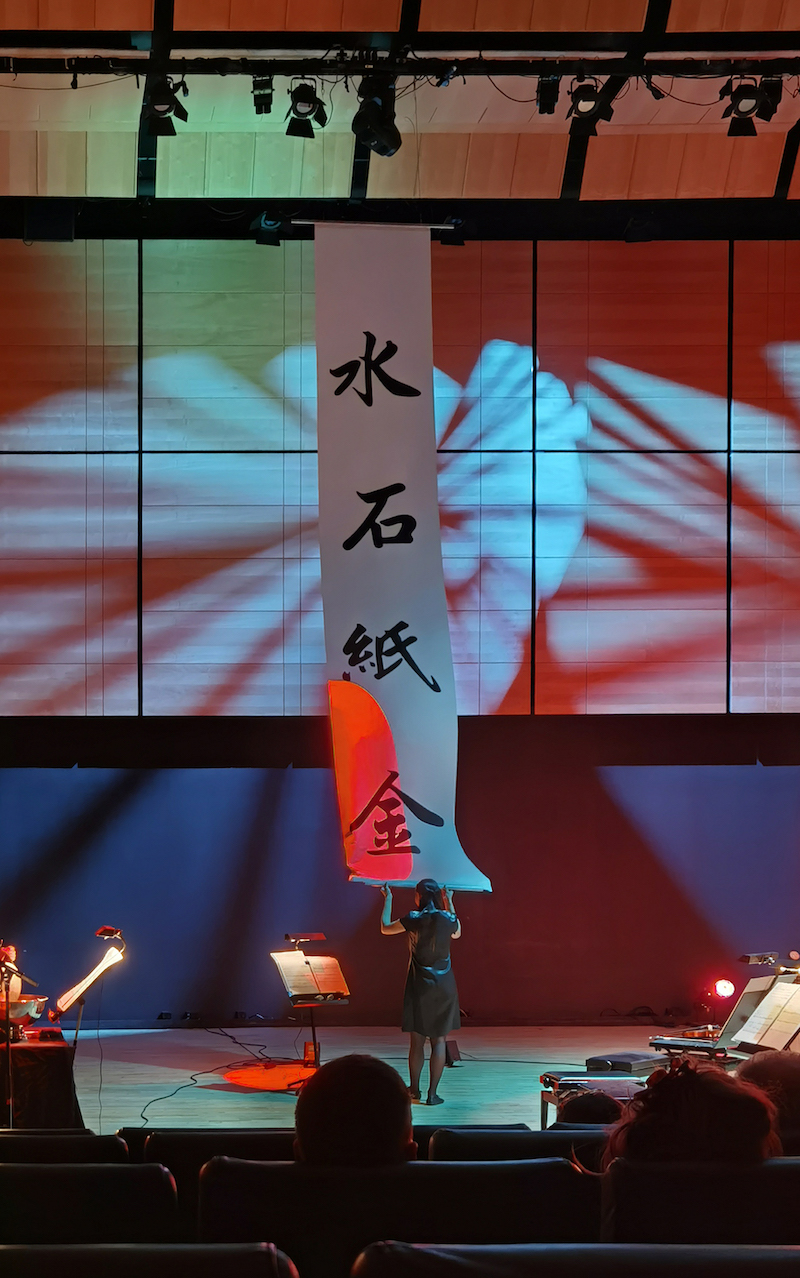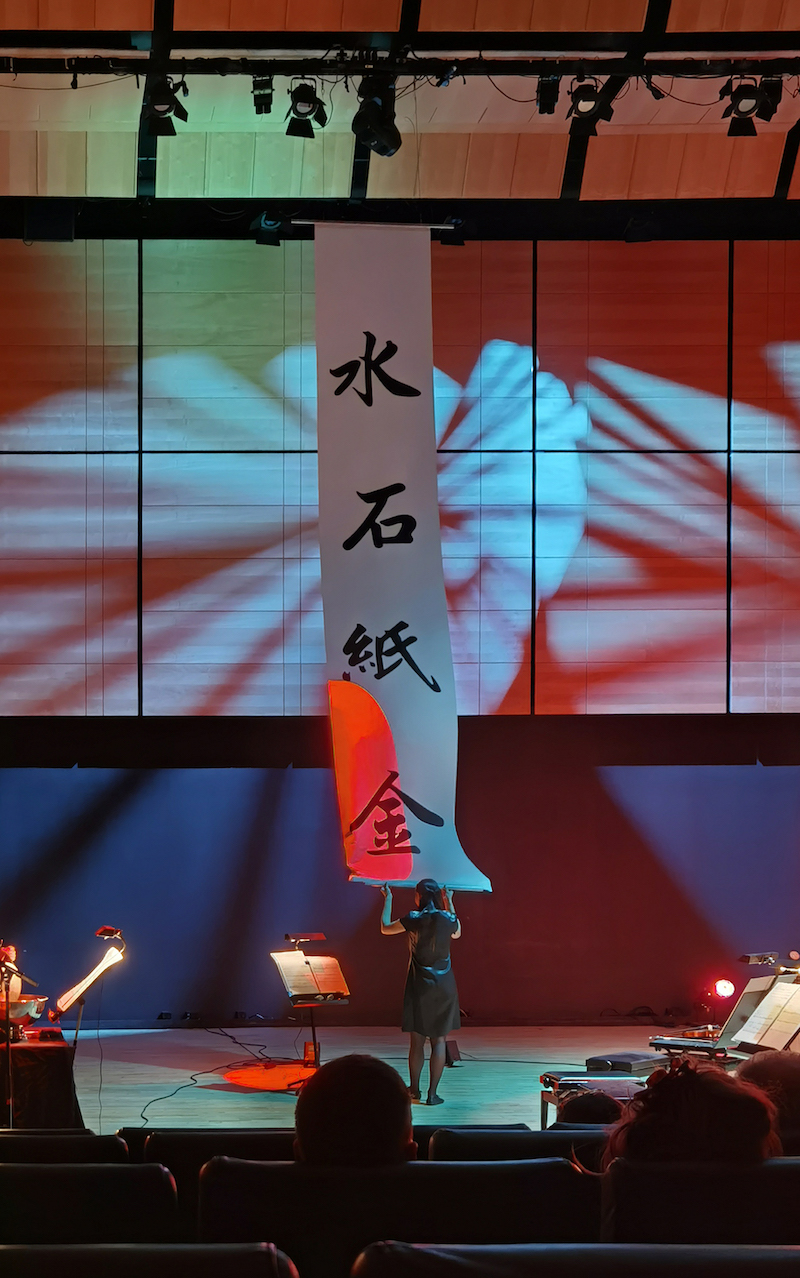 This concert was the last in one of a series of concerts held at the Royal Danish Library. It provided Danish music enthusiasts with the opportunity to learn about Chinese musical traditions and the latest developments.
---
//DANISH
Tan Duns Spektakulære Ghost Opera og Traditionel Kinesisk Musik
På aftenen den 21. marts afholdt Det Kongelige Bibliotek en koncert med den internationalt anerkendte komponist Tan Duns Ghost Opera samt en optræden med traditionel kinesisk musik af Lucy Zhao og RelevanzEnsemble. Koncerten integrerede pipa, et traditionelt kinesisk musikinstrument, med vestlige strenge og musik, og skabte dermed en bemærkelsesværdig oplevelse indendørs.
Koncerten åbnede med det kendte solopipa-stykke Erobreren Nedlægger Sin Rustning, der blev opført af den kinesiske pipaspiller Lucy Zhao. Forestillingen formidlede stærkt den tragiske heroisme af Xiang Yu (232-202 f.Kr.), en fremtrædende militær leder i det gamle Kina under den sene Qin-dynasti (221–206 BCE), som tog afsked med sin elskede konkubine Yu Ji, trak sit sværd og begik selvmord efter et tragisk nederlag, hvilket demonstrerede høj grad af udtryksfuldhed, drama og indre spænding. Efter dette præsenterede RelevanzEnsemble, Danmarks nyeste kammermusik-ensemble, bestående af erfarne topmusikere, Strygekvartet nr. 1 Quartettino, oprindeligt komponeret af den finske komponist Einojuhani Rautavarra.
Tan Duns Ghost Opera værk markerede koncertens højdepunkt. Som et multimedieværk var det inspireret af Nuo-operaen fra Chu-kulturen i det gamle Kina og brugte kinesiske etniske instrumenter og operamusik som musikalsk materiale, og adopterede stilen fra den vestlige klassiske kammermusik, hvilket udtrykte sammenstødet og fusionen af kinesisk og vestlig kultur. Værket kombinerede perfekt temaet fra preludium og fuge i ciss-mol fra Bachs The Well-Tempered Clavier med melodien fra den kinesiske folkesang Little Cabbage. Det indeholdt også en passus af dialog fra Shakespeares Stormen og tilføjede lyde af objekter såsom vand, sten, papir og metal, der blev udført live på scenen. Et kæmpe banner med store kinesiske tegn "vand, sten, papir, metal" blev også vist på scenen, hvilket skabte en stemning af kinesisk kultur.
Koncerten var meget udtryksfuld og flydende både i forhold til musikværker og optrædener, scenografi og brug af belysning. Den gav publikum en imponerende audiovisuel oplevelse og præsenterede et teatralsk miljø, der var velkendt, men alligevel ukendt for vestlige publikum, og tillod dem at opleve den unikke charme ved kinesisk kultur.
Denne koncert var den sidste i en af fyraftenskoncerter, der blev afholdt på Det Kongelige Bibliotek, og den gav danske musikentusiaster mulighed for at lære om kinesiske musiktraditioner og de seneste udviklinger.