The Silk Road is a conduit for the exchange and fusion of musical cultures, which are rich and diverse. Through this historic trade route, musical instruments from various regions and cultures were introduced to China and, through blending with traditional Chinese instruments, underwent mutual learning and innovative development, ultimately becoming a shared heritage of humanity.
As a significant point along the ancient Silk Road, Xinjiang served as a bridge and connector. The unique musical instruments of Xinjiang's ethnic groups also gained popularity along the Silk Road, promoting the exchange and fusion of Xinjiang's culture with those of other parts of the world and symbolizing the friendly exchanges between the Chinese people and the peoples of the countries along the route.
"String Music Along the Silk Road" presents an online exhibition, combining visual and auditory elements in the form of hand-painted scrolls, interactive animation, live music, videos, and a 720-degree panoramic exhibition hall, showcasing the allure of Silk Road musical instruments, and the beauty of cultural exchange and mutual learning along the Silk Road. It also serves as a retrospective of the history of Xinjiang's friendly exchanges with countries around the world. The exhibition aims to promote people-to-people exchanges among countries along the Belt and Road.
Scan the QR-code below to enter: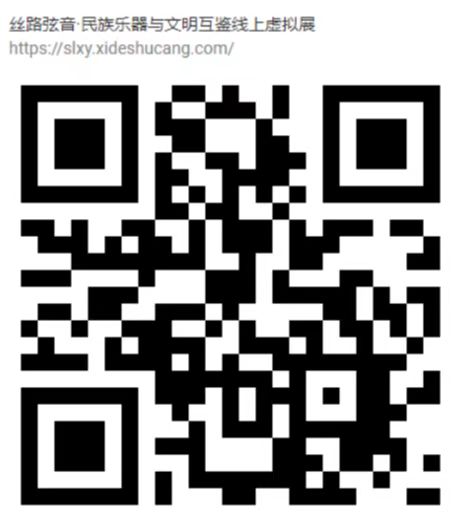 ---
//DANISH
Silkevejen er en kanal for udveksling og sammensmeltning af musikkulturer, som er rige og mangfoldige. Gennem denne historiske handelsrute blev musikinstrumenter fra forskellige regioner og kulturer introduceret til Kina, og gennem blanding med traditionelle kinesiske instrumenter gennemgik de gensidig læring og innovativ udvikling, hvilket i sidste ende blev til en fælles arv for menneskeheden.
Som et væsentligt punkt langs den gamle Silkevej havde Xinjiang rollen som en brobygger. De unikke musikinstrumenter fra Xinjiangs etniske grupper vandt også popularitet langs Silkevejen, hvilket fremmede udvekslingen og sammensmeltningen af Xinjiangs kultur med kulturen i andre dele af verden og symboliserer den venlige udveksling mellem det kinesiske folk og folkene i landene langs ruten.
"String Music Along the Silk Road" er en online udstilling, der kombinerer visuelle og auditive elementer i form af håndmalede skriftrulle, interaktiv animation, live musik, videoer og en 720-graders panoramaudstillingshal, der viser silkevejens musikinstrumenters charme og skønheden ved kulturel udveksling og gensidig læring langs Silkevejen. Det fungerer også som et tilbageblik på historien om Xinjiangs venskabelige udvekslinger med lande rundt om i verden. Udstillingen har til formål at fremme menneske-til-menneske udveksling mellem lande langs silkevejen.