On August 22nd, the opening ceremony of the "Moment in Jiangnan- When Zhejiang Folklore Meets Andersen's Fairy Tales" exhibition took place at the 10th H.C Andersen Festival in Odense, Denmark. Co-hosted by the China Cultural Center in Copenhagen and the Zhejiang Province Culture and Tourism Department, the event was organized by the Zhejiang Provincial Cultural Center. The Chief Executive Officer of the Festival, Peter Bøgholm, the Director of the China Cultural Center in Copenhagen, Zheng Wen, and the Deputy Director of the Zhejiang Cultural Center, Wang Buwei, delivered speeches at the opening ceremony. They collectively inaugurated the exhibition through a ceremonial ribbon-cutting, symbolizing unity in their shared passion for art and culture.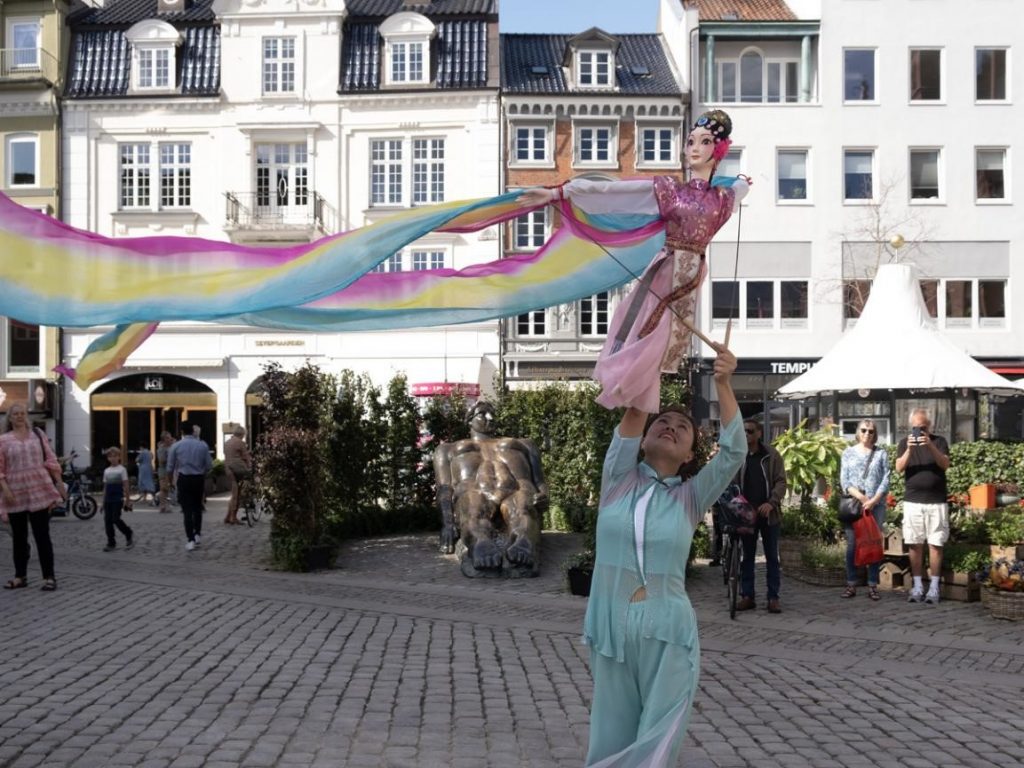 The H.C. Andersen Festival, held in late August annually in Odense City, Denmark, the hometown of the renowned Danish fairy tale author Hans Christian Andersen, is widely recognized worldwide. This year, the event was graced with the enchanting allure of Zhejiang, a province nestled in the heart of China's Jiangnan region. This region is renowned for its deep-rooted cultural heritage, encompassing a myriad of romantic and aesthetic legends cultivated over thousands of years.
The exhibition masterfully revolved around two quintessential Jiangnan folk legends: "The White Snake Legend" and "The Butterfly Lovers". These legends were brought to life through a captivating array of Zhejiang's representative intangible cultural heritage, including paper umbrellas, rice sculptures, wooden puppets, shadow puppets, rubbings, and traditional attire. These showcased forms not only exuded the distinctive cultural symbols of Zhejiang but also intertwined seamlessly with various artistic forms such as theatre, dance, and painting. Together, they wove a rich tapestry that vividly depicted the captivating essence of Jiangnan culture.
As we venture through the historical landscapes of Andersen's fairy tales and Zhejiang's folk legends, a captivating exchange unfolds, connecting the age-old narratives of Eastern folklore with the enduring enchantment of Andersen's tales.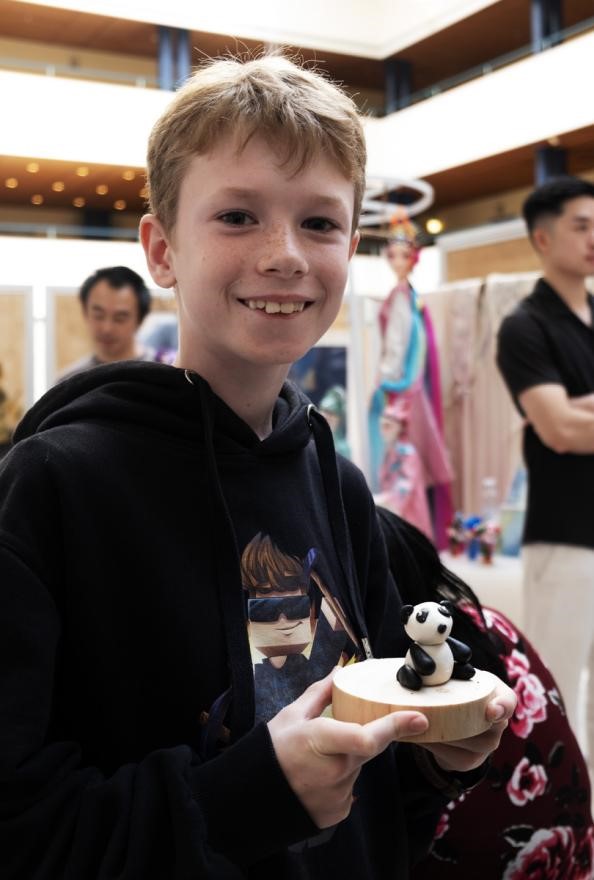 Danish
Den 22. august fandt åbningsceremonien for udstillingen "Øjeblikket i Jiangnan – Når Zhejiangs folklore møder Andersens eventyr" sted under den 10. H.C. Andersen Festival i Odense, Danmark. Arrangementet blev arrangeret i fællesskab af Kina Kulturcenter i København og Zhejiang Provinse Kultur- og Turismeafdeling og blev organiseret af Zhejiang Provincial Cultural Center. Festivalens administrerende direktør, Peter Bøgholm, direktøren for Kina Kulturcenter i København, Zheng Wen, og vicelederen for Zhejiang Cultural Center, Wang Buwei, holdt taler ved åbningsceremonien. Sammen indviede de udstillingen med en ceremoniel båndskæring, der symboliserede enhed i deres fælles lidenskab for kunst og kultur.
H.C. Andersen Festivalen, der afholdes årligt i slutningen af august i Odense By, Danmark, fødebyen for den berømte danske eventyrdigter Hans Christian Andersen, er bredt anerkendt globalt. Dette år blev begivenheden prydet med Zhejiangs fortryllende tiltrækning, en provins beliggende i hjertet af Kinas Jiangnan-region. Denne region er kendt for sin dybt forankrede kulturarv og omfatter et mylder af romantiske og æstetiske legender, der er opstået over tusinder af år.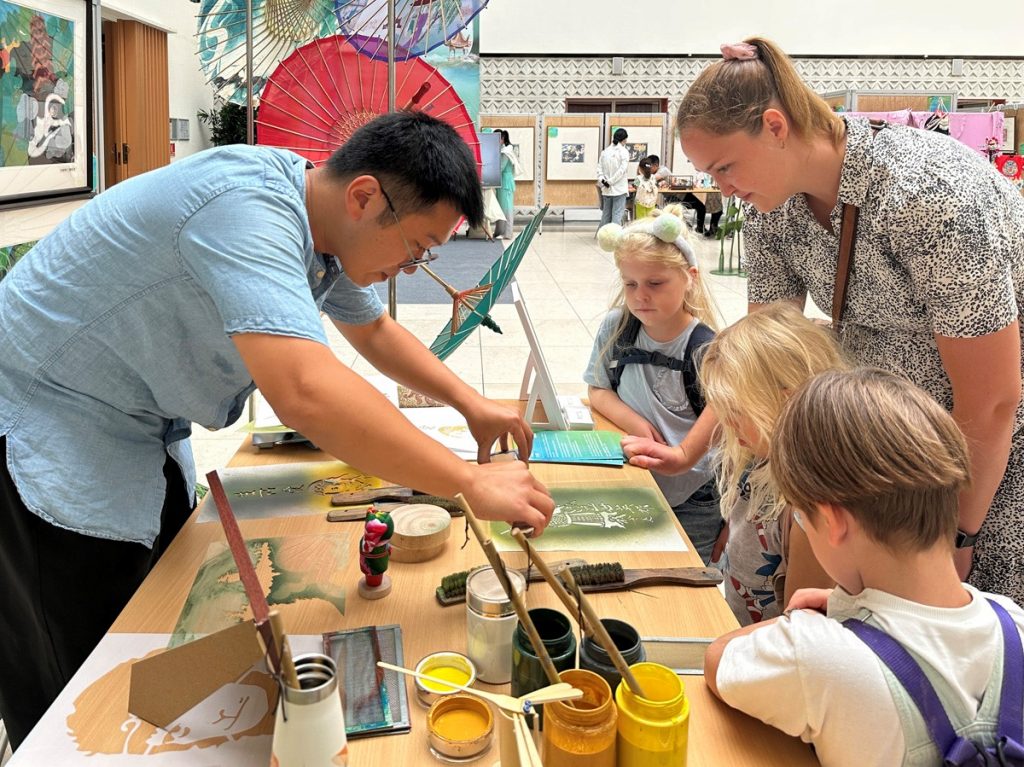 Udstillingen drejede mesterligt omkring to essentielle Jiangnan folkelige legender: "Legenden om den hvide slange" og "Sommerfugleelskerne". Disse legender blev bragt til live gennem en fængslende række af Zhejiangs repræsentative immaterielle kulturarv, herunder papirparaplyer, ris-skulpturer, trædukker, skyggespil, gnidninger og traditionelt tøj. Disse fremviste former udstrålede ikke kun Zhejiangs karakteristiske kultursymboler, men flettede også nahtløst ind i forskellige kunstformer som teater, dans og maleri. Sammen vævede de en rig tæppe, der levende skildrede Jiangnans fortryllende essens.
Mens vi begiver os gennem Andersens eventyrlige verdener og Zhejiangs folkelige legender, udfolder en fængslende udveksling sig og forbinder de ældgamle fortællinger fra østlig folklore med Andersens eventyrs evige fortryllelse.