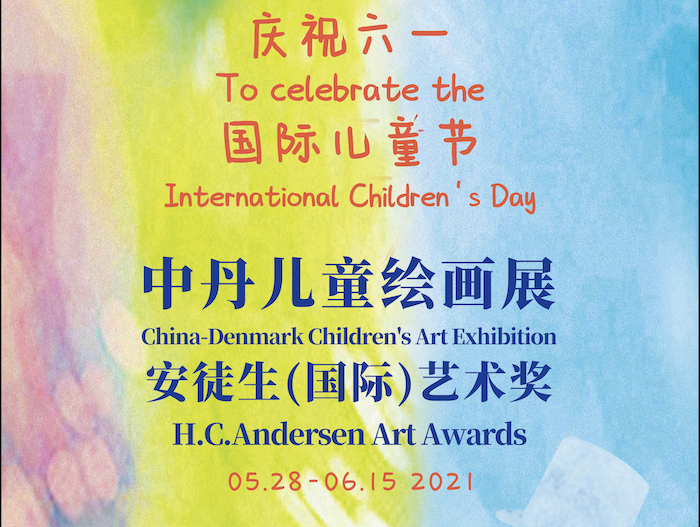 China-Denmark Children's Art Exhibition
On the occasion of this year's International Children's Day, the exhibition of Children's Art was held at the building of the China Cultural Center in Copenhagen and it was jointly held by the China Cultural Center in Copenhagen and Denmark H.C. Andersen Culture & Art Committee.
The theme of this exhibition is "Children Paint with Love, Together We Fight the COVID-19". The pandemic that has lasted for more than a year has had a huge impact on the people's lives and health in all countries, and it has also affected the schools and extracurricular activities, which means that online teaching and learning have been used by teachers and students on an unprecedented scale worldwide. Facing a sudden pandemic, children from all over the world have shown courage and self-confidence, taking the pandemic as a life lesson by exploring and perceiving, and actively cooperate with parents and schools to prevent the spread of the coronavirus, so as to achieve both prevention of virus and learning. They are using their paintbrushes to express their helping hand for all walks of life in the fight against the pandemic and use the love reflected in their works to express their blessings to the world and yearning for a better tomorrow.
Some outstanding works from "H.C. Andersen Art Award" are also on display in this exhibition. H.C. Andersen Art Award is co-sponsored by Denmark H.C. Andersen Culture & Art Committee and H.C. Andersen Museum. The purpose is to commemorate Andersen's achievements in culture and art and hope that children will use artistic creation to show their dreaming of fairy tales and aspirations for the world. Many Chinese students from primary school have enthusiastically signed up for this event.
Due to COVID-19, this exhibition is only for visitors by appointment, but you can still see the online version of the exhibition on our Instagram