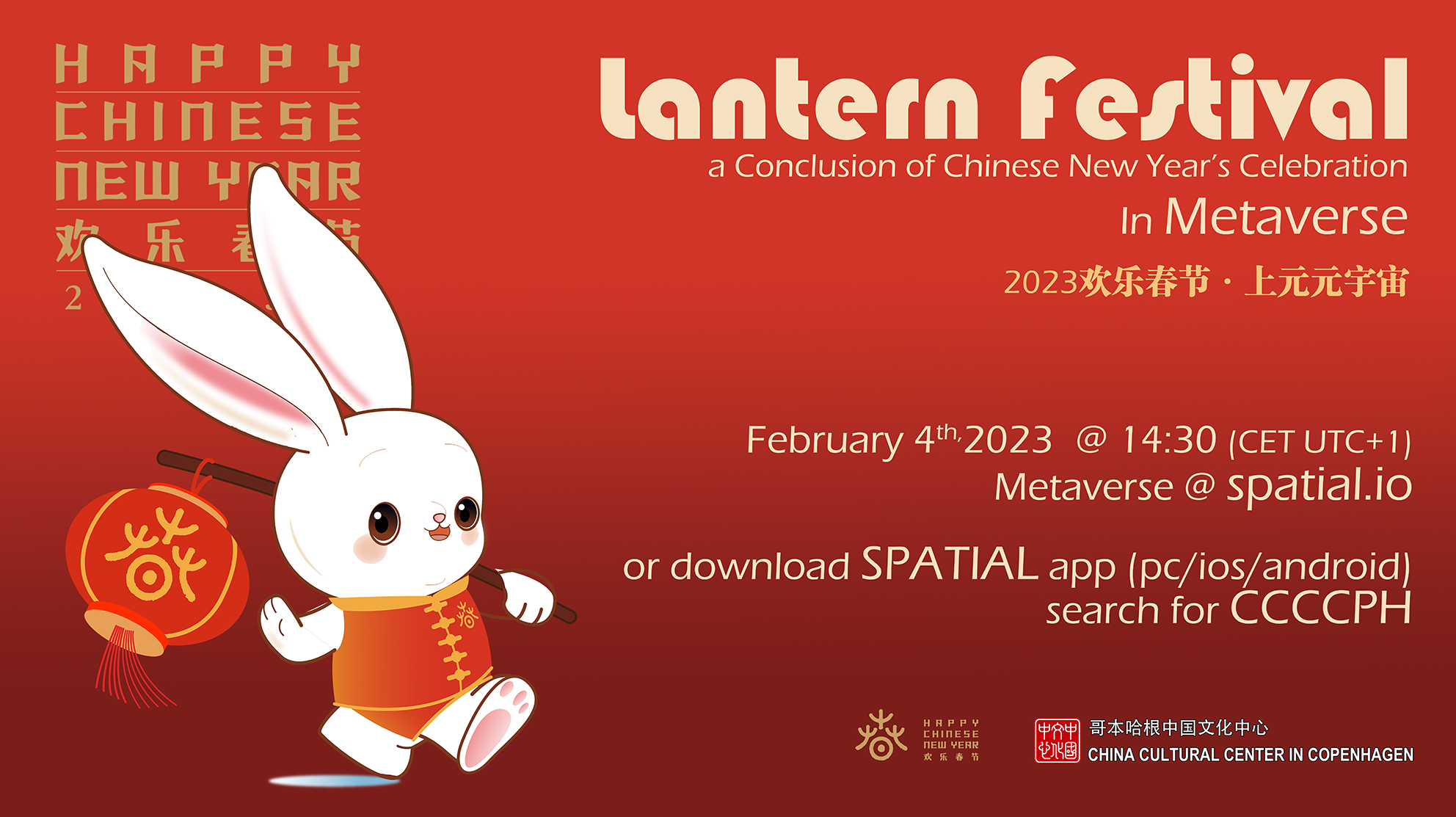 Lantern Festival in the Metaverse
The Lantern Festival, also referred to as the Yuanxiao Festival, is a significant cultural celebration that marks the conclusion of the several-week-long Chinese New Year period. The festival is renowned for its vibrant and colorful display of lanterns that are illuminated on the streets and often bear intricate riddles inscribed on them. The night of the festival is characterized by various cultural and traditional activities, including the consumption of sweet glutinous rice balls called "yuanxiao" (in Northern China) or "tangyuan"(in Southern China), the performance of dragon and lion dances, and the stunning display of fireworks. The Lantern Festival is an integral part of traditional Chinese culture and holds great significance for communities around the world. This year, the Lantern Festival falls on February 5th.
Join us to celebrate the Lantern Festival in a whole new way! The China Cultural Center in Copenhagen cordially invites you to celebrate the Lantern Festival with a virtual experience in the Metaverse – where Chinese culture comes alive in a fun and unique way. The Metaverse is now open for you to explore, with a maximum simultaneous occupancy of 50 individuals. However, the official event for the Lantern Festival will be held on February 4th at 14:30 and will remain accessible until that date.
Here is your chance to be a part of something special – but hurry! Only 35 spots are available, and it is totally free to participate! To secure your spot, simply sign up for the event (https://linktr.ee/ccccph) Don't miss out on this one-of-a-kind experience!
In order to access the metaverse, please download the "Spatial" app on your device (mobile phone or iPad), or if you are using a computer, just click this link (www.spatial.io), then search for CCCCPH. 
 Date: February 4th, 2023

 Time: 2:30 P.M. (CET UTC+1)

 Location: Virtual on Spatial Metaverse

Participation: Free, sign up is needed (only 35 spots available)

 Program of the Day: Coming, stay tuned!