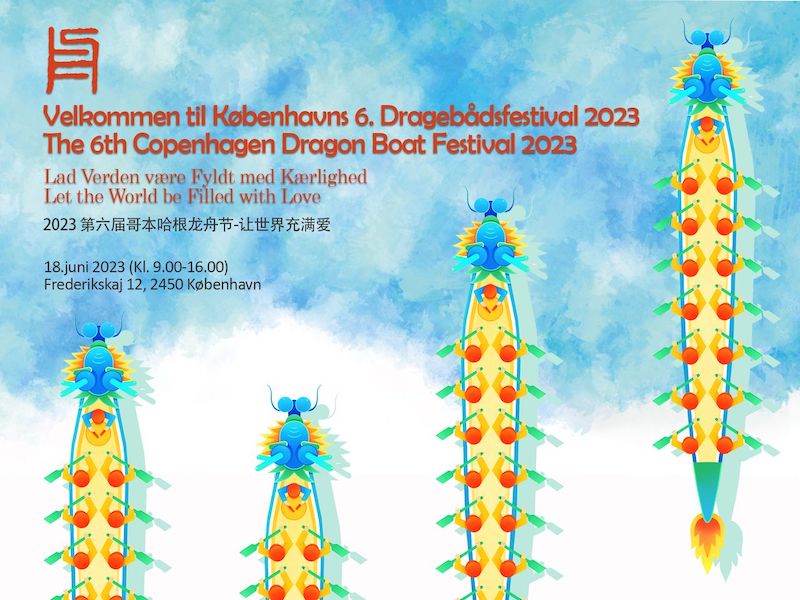 Copenhagen Dragon Boat Festival 2023
The 6th Copenhagen Dragon Boat Festival will be held on 18th June 2023 in Copenhagen, Denmark. The Copenhagen Dragon Boat Cultural Festival has been held for five consecutive years and has been well-received and supported. It has been reported by major domestic media, including CCTV and Xinhua News Agency. At this time of the end of the epidemic and the opening-up of China, the Organizing Committee of the Copenhagen Dragon Boat Festival (composed of dozens of associations and institutions) and the China Cultural Center in Copenhagen sincerely invite you and your colleague to participate in the 6th Copenhagen Dragon Boat Cultural Festival.
❤️ Theme: Let the World be Filled with Love!

Date: June 18th, 2023

Time: 9:00 A.M. (CET UTC+1)

Location: Copenhagen Sydhavnen, Frederikskaj 12, 2450 København

Participation: Free
You are welcome to organize a dragon boat team or you can also come directly to the venue to watch the game.
Pls. let us know if you or your team could participate before 28.May 2023.
We are planning to have 24 teams for the competition, the first register, first serve. Link for team register https://dragonboatfestival.dk/
It's also possible to have your own exhibition stands, it cost 1500kr each.
There will be 4 dragon boats, 17 participants per boat, Coxswain from Copenhagen Rowing Club and up to 35 food and drink stands!
📌 Program of the Day:
👉🏻 09:00 – 10:45: Opening ceremony: performance, guest speeches (embassy leaders, representatives, Director Zheng Wen of China Cultural Center in Copenhagen, domestic leaders, etc.), ribbon-cutting ceremony by guests, lion and dragon dance performance, and chorus of the song " Let the World be Filled with Love", led by Guo Feng.
👉🏻 11:00 – 13:30      Dragon boat preliminary rounds
👉🏻 13:30 – 15:30      Dragon boat finals
👉🏻 15:30 – 15:45      Award ceremony
👉🏻 16:00                    Event ends
Competition venue: 4 dragon boats compete simultaneously, each with 18 people (17 are from your team including one drummer, and one professional helmsman provided by the conference). In addition, the conference will also provide two professional rescue boats. Participants must be over 12 years old and able to swim.

A variety of food and cultural exhibition streets will be set up at the venue (including domestically sponsored food and specialties).

Large screens will be set up for interaction with China (approximately 25 square meters each).

Prize setting: This event will provide generous prizes and awards
This Dragon Boat Cultural Festival will invite the famous Chinese singer Guo Feng to participate in a chorus with students from Chinese schools and various associations: Make the world full of love.
This event will also invite various associations, organizations, universities, secondary schools, and companies in Denmark to participate.
Let us work together, ride the wind and waves, and sail in the blue harbor of Denmark.
We welcome everyone to come!